Salute to the Days of Doo-Wop comes to the Elks Saturday, Jan. 28
Originally Published: January 26, 2017 9:13 p.m.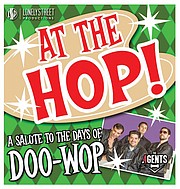 Whether you remember going to the sock hop in the 1950s and '60s or you love the tight harmonies of the Jersey Boys, "At the Hop" is the show for you.
The singers, called the 4Gents, are backed by the Lonely Street band, and they sing a wide variety of classic early rock-and-roll tunes.
Some of the songs the audience will know include "Goodnight Sweetheart," "Blue Moon," "Duke of Earl," "Do You Love Me" and "The hand Jive."
Bass singer Juan Aguirre says it's a fun show.
"They're really good sing-along songs, and we encourage the audience to sing along with us," Aguirre said, noting that audience participation is also a part of the show.
And, while you can expect to see people who know the music from their teen years in the crowd, "but we've had a lot of young people too … a lot of young people are really getting into it because of the movie and musical 'Jersey Boys.'" Aguirre said.
The harmonies made famous by groups like Frankie Valli and the Four Seasons are a major part of this show.
It's a new show; the guys in 4Gents (formerly the Monsoons and the Stray Tones) put it together over the summer. Aguirre and two other performers were in a production of Les Misérables — Aguirre was playing Inspector Javert — and got to thinking they'd like to work as a group, so they found a fourth singer and, about two years ago, began playing dates in Tucson.
"All of us like doo-wop," he said. "We all grew up listening to it and we're fans of the genre."
At the Hop! A Salute to the Days of Doo-Wop, presented by Lonely Street Productions, plays Saturday, Jan. 28, at 7 p.m. at the Elks Theatre, 117 E. Gurley St. Tickets are $22 - $25 and are available in advance at 928-777-2370 or www.prescottelkstheater.com.
SUBMIT FEEDBACK
Click Below to: