Folk Sessions celebrates 14 years with concert Saturday
Originally Published: January 26, 2017 9:05 p.m.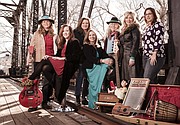 For 14 years, The Folk Sessions has been a staple of the Arizona Community Radio Network, and it's built a loyal following among listeners who have heard more than 350 musical guests.
Saturday, Jan. 28, at Prescott Center for the Arts, the show will celebrate its 14th anniversary with a concert.
Headlining the show will be Phoenix bluesman Eric Ramsey, who will join with popular string band Three-Legged Dog.
Ramsey has twice won the Phoenix Blues Society's Blues Showdown and will be performing in Memphis, Tennessee, at the International Blues Challenge in 2017. He has been a Finalist in the Tucson Folk Festival's Songwriting Contest, and has been tapped for the prestigious Songwriter's Showcase produced by Tempe Center for the Arts, filmed for PBS distribution. He was a featured performer at the Prescott Center for the Arts Dylan Tribute, and has headlined shows at the Highlands Center and the Flagstaff Folk Project in Arizona.
Three-Legged Dog is a modern version of the string bands that existed all about the country in the 1930s and '40s, groups that played everything - old-time mountain music, blues, ballads, devotional and dance music, jazz, pop tunes of the day - on acoustic instruments. The Dog takes to the stage with anywhere from 16 to 20 instruments including multiple guitars, banjos, mandolins, accordion, bouzouki, harmonica, stand-up and fretless electric bass, Dobro and Hawaiian guitar, cello and fiddle.
Joining them for an evening of Americana music will be Folk Sessions, Tom and Christa Agostino, and The Gurley Girls, Antique Parts and Garrick Rawlings.
Founded in 2002 by Alexa MacDonald and Tom Agostino, Folk Sessions has featured big names as guests, including Grammy winners Rosanne Cash, Ramblin' Jack Eliott, Tom Chapin, Carrie Rodriguez, Laurie Lewis and Acoustic Eidolon. It's heard on 89.5 and 90.1 FM Saturdays from 2:30 to 3:30 p.m.
Agostino said, "When you turn on The Folk Sessions, what you'll hear is music that originated around campfires and church halls, grange halls and honky-tonks - music with its roots in the stuff of real life. The Folk Sessions is a reminder of what music once was - and to music lovers, still is."
The show is at 7:30 p.m., at Prescott Center for the Arts, 208 N. Marina St. Tickets are $14. To order in advance or for more information, call 928-445-3286 or go to folksessions.com.
More like this story
SUBMIT FEEDBACK
Click Below to: