Denver Nuggets sign NAZ Suns' O'Bryant to 10-day contract
O'Bryant averaging 18.4 points in 24 D-League games played this season

Originally Published: January 26, 2017 10:43 a.m.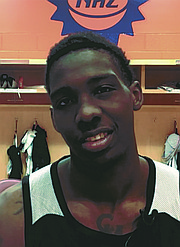 PRESCOTT VALLEY — After earning honorable mention at the annual NBA D-League Showcase event last week in Canada, Northern Arizona Suns forward Johnny O'Bryant signed a 10-day contract with the Denver Nuggets on Thursday morning.
O'Bryant is the first Suns player to earn an NBA call-up in team history. Derrick Jones Jr., currently playing for the parent-club Phoenix Suns, signed an NBA contract prior to the D-League season and is considered an assignment player.
Financial terms of O'Bryant's deal with the Nuggets were not disclosed.
The former LSU standout is the 11th player to receive a call-up this season, making Northern Arizona (12-12) the ninth D-League team to have a player promoted to the NBA level.
Denver is the third NBA franchise O'Bryant will ink a contract with in his career. He was selected by the Milwaukee Bucks in the second round of the 2014 NBA Draft with the 36th overall pick. He played 100 games for the Bucks, averaging 3.0 points and 2.4 rebounds per game.
O'Bryant joined the Washington Wizards in September last year, where he played four preseason games before being waived.
At 6-foot-9, 257 pounds, O'Bryant started all 24 games for the Suns this season, averaging 18.4 points per game on 46 percent shooting, while averaging 8.6 rebounds and 32.2 minutes per game.
O'Bryant recorded 10 double-doubles this season for the Suns, and was recently named D-League Performer of the Week.
FIRST GAME
O'Bryant, who will wear No. 9 for Denver, will be in uniform tonight as the Phoenix Suns (15-30) visit the Pepsi Center to play the Nuggets (19-25). Tipoff is set for 7 p.m. on Fox Sports Arizona.
WILL O'BRYANT RETURN?
After the 10-day contract with Denver expires, the Nuggets will have an option to resign O'Bryant to another 10-day contract.
If the second 10-day contract expires and Denver chooses not to sign O'Bryant for the remainder of the season, he becomes a free agent.
Once he becomes a free agent, O'Bryant can sign with any other NBA team, or return to the D-League and rejoin the Suns in Prescott Valley.
Brian M. Bergner Jr. is an associate sports editor for The Daily Courier. Follow him on Twitter, Instagram, Periscope and SoundCloud at @SportsWriter52, or on Facebook at @SportsAboveTheFold. Reach him by phone at 928-445-3333, ext. 1106.
More like this story
SUBMIT FEEDBACK
Click Below to: