Vehicle fee, 10-cent gas tax on legislative agenda
State legislators discuss upcoming session with county

Originally Published: January 24, 2017 6 a.m.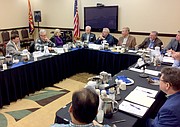 PRESCOTT — Roadways are taking a hit, said Yavapai County supervisors who are working with state legislators on who should benefit from Highway Users Revenue Funds (HURF) and how municipalities can keep up with maintenance and safety costs. Three local state legislators met with the Yavapai County Board of Supervisors and representatives from Central Yavapai Metropolitan Planning Organization Friday, Jan. 20, at the Prescott Resort.
Rep. Noel Campbell told supervisors he submitted a bill that would add a $30 annual fee to insurance policies for every vehicle. That would add $125 million to the state budget, he said, and would help fund the Department of Public Safety. Historically, DPS fell under the Arizona Department of Transportation and does not have its own funding source, said Chris Bridges, CYMPO administrator; it receives money through HURF.
"The trucking industry is behind it. I would hope the counties will support it. If it got out of the House and Senate, I believe the governor would sign it," Campbell said. "It's simple and it's doable."
It may be an imperfect vessel, he added, but at least the legislature is talking about it. The proposed 10-cent gas tax increase would help with road repairs, but to really have enough, the increase would have to be 18 cents, Campbell said.
Rep. David Stringer, newly elected and on the job for 10 days, said he hasn't signed on to the bill yet. He wants to wait and see what President Donald Trump will do to build the nation's infrastructure.
In addition, Stringer said the voters and taxpayers will let the legislature know when it is time to take action, just as they have with the issue of education funding.
"There will never be a good time for a tax increase," Supervisor Craig Brown responded. "Now's the time while gas is cheap."
The debt with which many cities and counties are struggling to pay off, the Public Safety Personnel Retirement System (PSPRS), left many in the room shaking their heads.
"Somewhere down the road, the contributions are not going to get over the hump," Campbell said. He suggested five or six cities file bankruptcy together, and said maybe the impetus would lead to changes in the law.
Sen. Karen Fann pointed out that not all municipalities owe anything, and so a statewide solution may not happen.
"We certainly do need conversation to do something with the constitution to stop the bleeding," she said. Campbell said the helmet requirement for motorcyclists failed to pass this past week. Some incentives bantered around to motivate wearing a helmet were to lower registration fees and decrease insurance costs; for those who don't wear a helmet, to require signing on as an organ donor. Any efforts at approving a distracted driver or hands-free cellphone use bill met with support from some and opposition from others.
Voice-activated Bluetooth devices met with approval from Campbell. Brown questioned whether cellphones were the only things that distract drivers, citing those who read newspapers, apply makeup, eat or drive with dogs on their laps.
Stringer said newer technology and driver's education are helping with driver distraction, and he would not support such a bill.
"I don't believe in giving cops one more reason to pull you over," he said.
Fann said to keep an eye out for a new bills from police and fire unions that add more types of cancer and cardiac disease to coverage by workman's compensation. "We must make sure science and data backs it up." Otherwise, she said, it could be another overwhelming situation like the PSPRS debt.
More like this story
SUBMIT FEEDBACK
Click Below to: