Charter school leaders encourage lawmakers to add dollars to education
'LOSING TEACHERS?'

By
Nanci Hutson
|
HutsonNanci
Originally Published: January 24, 2017 6 a.m.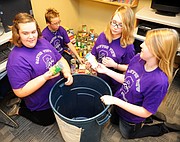 PRESCOTT — Leaders of some area charter schools say they are eager to see state lawmakers endorse proposals to infuse more money into educational coffers, a must if students in this state are going to succeed.
"Money does make a difference. It really does," declared Debra Slagle, principal at Canyon View Prep Academy and Park View Middle School in Prescott Valley.
Despite state Superintendent Diane Douglas' AZ Can't Wait 2017 plan that seeks $680 million in new dollars and Gov. Doug Ducey's proposal to add $114 million for K-12 initiatives, Slagle and fellow charter school leaders are not ready to cheer just yet. They say these are worthy proposals that have a long way to go to become reality.
"Anytime we are asking the Legislature for money, who knows?" Slagle observed. "I would hope that they (state lawmakers) would recognize the fact that we're losing teachers in this state at a catastrophic rate. We are in a crisis in education in Arizona."
La Tierra Community School Operations Director Beth Cottle said she sees Ducey's proposals as a "step in the right direction."
"Any money is better than no money," Cottle said.
In Cottle's assessment, the highest funding priorities rest with teacher salaries and providing funds to maintain facilities so that students are safe where they learn.
She and other charter leaders, too, want to ensure school choice remains valued in the budgetary process.
"I'm always encouraged when the governor supports education, and recognizes the importance of, and is supportive, of charters," Slagle said, advising that must stretch to all and "not just those that cater to the highest-performing students."
In her three years in Prescott Valley, Slagle said she has witnessed how rural Arizona's unique educational needs are overlooked.
This region has a harder time finding, and retaining, teachers qualified to meet the high demand of differentiation in instruction required for the diverse student populations that exist here, she said.
"We're serving the needs of a lot of different students, and we're trying to diversify with limited resources," Slagle said.
To stay competitive and meet state mandates, Slagle said not only do lawmakers have to invest in teachers but also set aside resources to keep up with the ever-evolving state of technology that is integral to "blended learning environments."
Slagle said the focus in education needs to revolve around offering instructional programs that reach not only the best and brightest, or those with federally-mandated special education needs, but that propel those "average students who sometimes get lost in the crowd."
Like area district leaders who lament Arizona's low-level national position with educational funding, Slagle said it's time to move from the bottom for the sake of all citizens. This state's students, and elder citizens who will one day depend on these students to be their leaders, deserve to be taught by the very best teachers, but attracting those when salaries are in the lowest 10 percent in the nation proves more difficult every year.
The national salary average for elementary teachers is $54,120 versus Arizona's median of $40,590, according to the U.S. Census Bureau of Labor Statistics.
"Our kids are our future, whether they are district kids, charter school kids or private school kids," Slagle said.
La Tierra Director Lenka Studnicka said she is relatively new to the school, but as an educational veteran knows that equipping and enabling children to think and solve problems is key to the sustainability of the world.
She said she has high hopes that Ducey's initiatives will pass muster with his fellow lawmakers. No one can afford to forget what is at stake when they vote on these dollars, she said.
"Educated minds make educated decisions," Studnicka concluded.
More like this story
SUBMIT FEEDBACK
Click Below to: