1,200 encircle courthouse in Prescott Womens's March (VIDEO & GALLERY)
Photo Gallery
Womens March In Prescott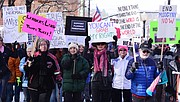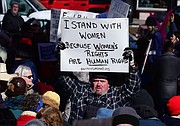 Meeting times
Organizers of the Sister March that took place Saturday, Jan. 21, have made a change in the meeting times announced at the March. They are offering two times to meet on Wednesday, Jan. 25, at Granite Peak Unitarian Universalist Congregation building at 882 Sunset in Prescott. The first meeting takes place from 12 to 2 p.m., the second at 6 p.m.
PRESCOTT – The sun finally came out Saturday, Jan. 21.
And so did the people of Prescott – 1,200 men, women and children.
Organizers of the Women's March on Washington-Prescott counted more than 1,200 participants from Prescott and surrounding communities.
Downtown received 6 inches of snow Friday night, and some roads remained unplowed before the noon rally began, making travel precarious for some. The sidewalks around the Yavapai County Courthouse ran with 4 inches of icy slush, but that didn't stop the marchers, many of whom carried homemade signs and wore pink knitted (PUSSYCAT) hats.
Four book club members gathered, bundled up in the chill freezing temperature, with their signs, "Hear me Roar," and "Here's to Strong Women. We know them. Be them. Raise Them." One drove from Sedona, another from snow-laden Cherry, another from Wildwood where the roads were "a little dodgy."
"We're here to support equality for everybody. We refuse to go to that dark place," said Kimi Donovan, a Prescott nurse.
Her friend, Elizabeth Drew, also a nurse, said she was shocked this morning to find the official White House website had removed the links to Civil Rights and Climate Change information.
Karla Brockie, pastor at Granite Peaks Unitarian Universalist Congregation, offered a blessing to begin the march, ending it with "Peace" said in several languages.
Prescott March organizer Pat Beitel reminded the crowd that they were not there just to have a good time.
"We need to know what we're going to do tomorrow," Beitel said, and announced a two planning meetings, at noon and 6 p.m., on Wednesday, Jan. 25, at the GPUU building.
The participants began their march clockwise around the courthouse chanting, "People united will never be divided." As the crowd filled the sidewalks and circled the plaza, the beginning closed ranks behind the end, forming a solid moving mass of supporters around the courthouse.
Kira, 10, and her father, Mark Dorsten, took part, with Mark carrying the sign Kira made stating, "Girls Just Wanna Have Fun-damental Rights."
"I'm marching for everybody who is afraid right now," said Iris Higgins, carrying her son, Jamie, and a sign reading, "We the People Protect Each Other."
"I don't think anybody should have to be afraid in our country right now," she said.
A President Trump supporter stood off to the side with his camera. Chris Winder of Prescott Valley said he was just an observer documenting history. Although he disagreed with 99 percent of the participants, he was impressed with the "peaceful protest."
"This is how it should be, peacefully protesting, making their voices heard, making their opinions public," Winder said as cars honked nearby and supporters waved. "There is nothing nasty here. This is really mature. This is exactly how it should be."
Many participants made it clear this was not an anti-Trump event, but a peaceful rally to promote women's rights, civil rights and unity, among many other issues.
The march ended with people linking hands and joining in song, Amazing Grace, We Shall Overcome, and This Land is Your Land.
https://w.graphiq.com/w/3R7ZKjcFD1P
More like this story
SUBMIT FEEDBACK
Click Below to: