Sharlot Hall Museum planning for education center project

By
Max Efrein
|
mefrein
Originally Published: January 22, 2017 6:01 a.m.
Sharlot Hall Museum has begun fundraising for a 7,000-square-foot education center it plans to build on the southeast corner of its campus.
The two-story facility will provide much needed space for many of the programs already offered at the museum while freeing up other space on the campus for additional exhibits, said Fred Veil, Sharlot Hall Museum's executive director.
On the first floor will be a 135-seat auditorium and multi-purpose venue fitted with restrooms, state-of-the-art multimedia and a catering kitchen for events.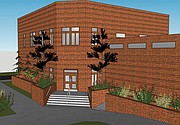 To host special programs, the museum currently has a theatre that seats about 50 people and a gallery that seats about 70 people.
"Often, either one is inadequate," Veil said. "They just don't have the capacity."
This lack of presentation space frequently results in the museum having to turn people away, particularly during festivals and for lectures that are popular, Veil said.
"So it's a public relations issue for us as well as a condition that affects our mission, which is to provide access to educational events and exhibits," he said.
Once the new building is constructed and put into use, the theatre, gallery and current kitchen/break room in the Lawler Center will be repurposed to showcase more of the museum's massive collection.
"We have 40,000-some objects in our collection and we're only exhibiting about 15 percent of it," Veil said. "We want to show more."
The second floor of the new facility will provide conference and class rooms for education and training, as well as offices to house the museum's staff.
Most of the current employee offices are clustered behind the museum's reception desk. When vacated, that space will be converted into an orientation room designed to fit about 30 people, Veil said.
To pay for the new facility, the museum has been actively reaching out for support wherever it can.
About $850,000 of the estimated $2.25 million needed for the project has so far been raised through donations and pledges from members, friends, organizations and year-end gifts, Veil said.
Much of the remaining funding may come from foundations that the museum has already submitted grant requests to. The museum hopes to raise about $1.5 million or $1.25 million of what it needs through such grants, Veil said.
"I'm cautiously optimistic that we can raise the money we need to fund this project by the end of this year," he said.
Perhaps starting this spring, the museum will be expanding the fundraising effort by hosting special events for the public to attend.
"We don't have any definitive plans right now, but we're putting together some events that will be designed to invite people to come see what we're up to and hopefully convince them that it's something they might want to support," Veil said.

One of the challenges related to the construction of the new facility are the power lines along McCormick Street where a side of the new building will be facing.
Standard protocol calls for any hanging power lines to be at least 10 feet from a building. For the building they have in mind to be of the size they wish it to be, a small section of power lines along McCormick will have to be shifted to avoid conflicting with this distance requirement.
Steve Quinn, APS's Northwest Division Manager, said there are two ways to resolve this matter without affecting the height or footprint of the building: either make the power line poles taller or install what are called alley arms.
For the sake of this project, Quinn is thinking alley arms may do the job.

"Instead of the wires being right over the top of the pole, we push them over to the side," Quinn said.
Veil intends to put in a formal request for APS to install these arms as a donation to the project, but said no matter what APS decides, the lines will be moved one way or the other.
"Whether they do it as a cost to us or as a contribution to the project, it has to be done," Veil said.
Once such aspects of the project are worked out and the overall funding goal is met, then construction may begin.
"I don't see us going into construction until 2018," Veil said.
SUBMIT FEEDBACK
Click Below to: