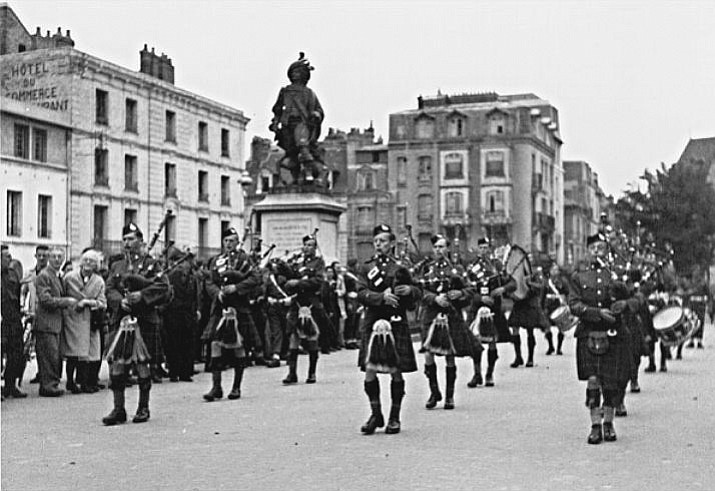 Originally Published: January 22, 2017 6 a.m.
PRESCOTT – In 1942, Dominique Levasseur Jewett was a toddler spending the summer with her beloved grandparents in France. Her grandfather, Renè Levasseur, a World War I hero, was the mayor of the port town of Dieppe, France north of Normandy.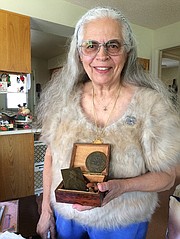 On Aug. 19, war ended up on their doorstep once again.
Some 6,000 Allied Forces attacked the then-German occupied port, a failed raid that transformed what Jewett remembered as a quaint French community into a "blood bath."
As a little girl, the now 78-year-old woman who lives in Prescott, Arizona, and still speaks with a pronounced French accent, recalls the terror from that day. The gunfire and bombing forced her family to flee their home, and she was injured by a piece of flying glass that embedded in her eye; four years ago she required an eye implant to retain her sight.
She, too, though, remembers the sound of the bagpipes, a sound the family suggested signaled hope amid sorrow.
To this day, Jewett said she loves the sound of the bagpipes, music has long played a role in her life and her 46-year marriage to John Jewett, whose family is from Scottish origin.
What Jewett, too, remembers from that day, and days that followed through to the invasion of Normandy, was her grandfather's ability to protect the survivors of their beloved town, standing up to German officers in seeking protection for innocent families.
Her grandmother, Simone Delaraue Levasseur, who was French by birth but educated in England, was able to be his translator, and helped her grandfather convey messages to the Germans to intercede on behalf of the Dieppe citizenry.
"By his courage and great skills to deal with the Germans, he saved Dieppe and many lives," Jewett said.
As war continued to rage around them, Jewett ended up back and forth between her father and her grandparents.
In 1943, a year after the Dieppe raid, Jewett was again in peril. While visiting her father in another port city in the Normandy region sirens sounded, and bombs leveled a four-story apartment building where they lived. They found shelter in the basement, but even to this day Jewett can remember the noise of the railroad tracks collapsing and the sirens blaring as bombs were dropped.
"So I hate fireworks," Jewett said.
She has no recollection of how long she and her stepmother were trapped in the basement, but she does remember the cold and the dark, feeling hungry even as she watched young mothers nurse their babies for nourishment. Again, the now mother of two adult sons who live in Oregon is an advocate of mothers who breast feed their young children.
Jewett's voice quavers, and tears flow as she recalls the angst she still harbors from that day.
"It's strange how you deal," Jewett said, noting beyond the wartime trauma that still resonates in her life she and her husband, a retired aeronautical engineer, survived a major earthquake in the San Fernando Valley in California in 1971. "I live a life of self-preservation to this day."
The war fractured her family such that her grandparents felt she needed a new home, and so they arranged for her to travel on a ship to New Orleans, Louisiana, to live with a maternal aunt.
"I don't know that they planned to send me forever," said Jewett, who never again lived permanently in France.
Jewett said she is telling the story of her grandparents and her survival now because she does not want their sacrifice and courage to be forgotten. She has a small wooden box of medallions she took from her grandfather's desk in Dieppe on a "goodbye trip" she took to France in 1975. In recent months, Jewett said she has had a yearning to find a way to preserve these mementos to a "fantastic" man who risked his life to save those of others, both in the military and then again in civilian life.
She said she wants to share the story of people of "great dignity" willing to stare down "tyranny," Jewett said of her grandparents. Her grandfather was mayor in Dieppe for 30 years and died at age 94.
The director of the Prescott Celtic Concert series David McNabb, and friend to the Jewetts, said Dominque Jewett is a woman with a "fascinating family story," one that speaks to a history too few today know or remember. The Jewetts have performed with McNabb's group over the years, with Dominique a mezzo soprano and her husband playing the auto harp.
"She's warm and caring, and concerned about everyone," McNabb said. "And she will talk to anyone. She's so welcoming."
Her husband, John, agrees his wife is someone who wants people to share her history not for any personal recognition, but because her grandparents were special people who played a role in modern history.
"I had the pleasure of meeting him, and he was an impressive person," John said.
The Jewetts have called Prescott home for 26 years.
"We bought this property because of its beauty," Dominque said. "The apple tree out front reminds me of the orchards of Normandy."