AZ Voters: Education is the top priority

By
Nanci Hutson
|
HutsonNanci
Originally Published: January 20, 2017 6 a.m.
Without a doubt, families in Arizona want a high-caliber education for their children, and want lawmakers to consider it a priority.
The rub is how that poll translates to dollars.
Will those same people who say education should be the state's top priority agree to tax increases to pay for it, according to state and local educational leaders and advocates.
Expect More Arizona, a nonprofit educational advocacy group in Northern Arizona, conducted a poll through Public Opinion Strategies in December of 500 Arizona voters related to education issues. The overall result was that for the second year in a row residents have identified education as the most important issue facing this state — 43 percent — above immigration controls and job creation.
"We are encouraged to see such strong support from voters statewide for Arizona's teachers and students," said Erin Hart, chief operating officer for Expect More Arizona in a news release. "We look forward to working together with policy holders and elected officials to make education a top priority and to advance the preferences of Arizona voters."
Yavapai County Schools Superintendent Tim Carter, vice president of the state Board of Education, said he has seen the polls and it certainly matches what he has heard from communities across the state.
"The bigger question is the issue of funding," Carter said. "It's easy for me to say I support public education. It's more difficult for me to say I want my taxes raised to support it."
He said there is no doubt in his mind that Arizona voters realize education is not adequately funded — Arizona is listed at about 49th of the 50 states in per-pupil educational funding. Voters clearly recognize that there is a "ripple effect" between those who earn a high-level education and those who do not when it comes to benefits to the state economy.
"I don't think there is any doubt about it," Carter said.
The issue boils down to whether or not voters are willing to prioritize education such that they are willing to be taxed more to pay for it, and will they elect lawmakers who support higher taxes for education, Carter said.
The Expect More Arizona poll showed that 84 percent of survey takers see educational funding as the state's top priority, with 95 percent stating schools need more money to attract and retain the highest-caliber teachers.
The renewal of Prop 301, use of sales tax revenue to aid educational funding, earned 79 percent approval.
Arizona Education Progress Meter
Arizona
High school graduation: 76 percent
College bound — 50.5 percent
Third-grade reading — 40 percent
Preschool enrollment — 37 percent
Teacher pay — 75 percent of national average — Median elementary school teacher pay is $40,590 versus national average 54,120.
Yavapai County
High school graduation: 81 percent
College or post-secondary pursuits — 70 percent
Third-grade reading: 42 percent
Preschool enrollment — 64 percent
Source: Expect More Arizona and the Center for the Future of Arizona
Eighty percent agree that increasing the number of students who graduate from state or community colleges is critical to the economy, and 75 percent want to see more funding given to community colleges and universities to recruit students.
Other survey results suggested that every child needs access to a great teacher and principal – 89 percent; every child should receive the support they need to read at grade level by third grade – 87 percent; and 72 percent say every family who wants it should have access to high-quality early learning opportunities to support kindergarten readiness and literacy development.
Even with Gov. Doug Ducey's plan to infuse about $114 million in education in the coming year, Carter said a focus remains on doing that without generating new taxes, Carter said.
"If that's the view, then the likelihood of the state of Arizona … changing that dynamic is very small," Carter said.
Budgeting boils down to three factors: if you want to spend more you can increase revenue, decrease spending elsewhere or a combination of both, Carter said.
"In the existing budget, there is only so much you can move around," Carter said. "And I think the governor is trying to find ways within that parameter to fund education. But it still comes out to about $16 a student and that's not going to move the needle at all."
Prescott Unified Schools District Superintendent Joe Howard said the district works closely with Expect More Arizona and welcomes their advocacy aimed at convincing voters and lawmakers of the need to reprioritize, and properly fund, education in this state.
He said he is encouraged with Ducey's latest budget proposal.
"I have great hope," Howard said.
Carter, too, has optimism that lawmakers are being pushed to come up with new answers to the question of how best to elevate education in this state.
"Sooner or later, there will be an answer … and we're going to do something different," Carter said.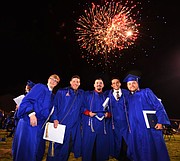 More like this story
SUBMIT FEEDBACK
Click Below to:
This Week's Circulars
To view money-saving ads...