Prescott Public House presents Local Art Collective

By
Max Efrein
|
mefrein
Originally Published: January 19, 2017 6 a.m.
An underground art group that refer to themselves as simply Local Art Collective have been granted the opportunity to show their work at Prescott Public House this coming Friday, Jan. 20.
IF YOU GO
What: Art show
Where: Prescott Public House, 218 W. Gurley St., Prescott
When: Friday, Jan. 20, 7 to 10 p.m.
Contact: 928-277-8062
Back in October, Jonathan Allred, a member of the collective, was venting to Prescott Public House owner Mark Walters about how difficult it is to showcase artwork in town.
One of the barriers artists face are commission fees. A standard gallery or art market show will typically take 40-to-60 percent of what the artist makes from selling a piece for simply providing the venue to show the work in, Allred said. To compensate for this, artists have to charge a premium for each art piece just to recover the cost of time and equipment devoted to the work.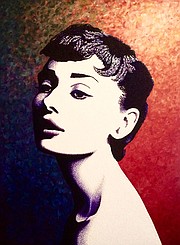 "That business model ends up hurting the artist most because we don't sell as much," Allred said.
Additionally, galleries are often selective on what type of art they are willing to showcase. Members of Local Art Collective have difficulty with this as well, Allred said.
"It's either because it's a small town and it's kind of got the clique thing, or it's maybe that some of the work that we're putting up is a little more progressive, a little more contemporary, and they view it as more strictly business — they want to sell stuff — so they go 'well our market is a little more retiree,' whereas all of the artists involved in [Local Art Collective] right now are below the age of 35."
Walters sympathized with the struggle and responded plainly with an offer Allred and his group couldn't refuse.
"I said, 'let's do a show and do zero commission the night of the show and then we'll just do a really small commission moving forward,'" Walters said.
Jonathan quickly said yes and a partnership was formed.
The show itself will take place from 7 to 10 p.m. that Friday evening. Eleven local artists will have their work displayed on the interior walls of Prescott Public House. Ten of the eleven artists are expected to be there to answer any questions about their work. Local musician Kaileena Martin will be performing from 6 to 9 p.m., followed by local disk jockey Julio Perez at 10 p.m.
Walters opened his bar last June and has since been finding ways to engage the community.
"We're about local first, and this is definitely an event that will have local music, local art and will promote all of these local people," Walters said. "The benefit for me is that I get free art on my walls and the exposure."
Following the event, the participating artists may leave their work hung in the bar, Walters said. Any pieces that sell in the time after the event will only face a 20 percent commission fee. Half of that fee will go toward repairing walls, paying for hanging fixtures and things of that nature, while the other half will go to the bar's employee that sells the work.

"So it's an incentive for my staff to sell it and that way we're constantly, actively trying to move it," Walters said.
More like this story
SUBMIT FEEDBACK
Click Below to: