Mingus defeats Prescott in boys basketball
Marauders drain 11 3-pointers in rout of Badgers
By
Doug Cook
|
dougout_dc
Originally Published: January 18, 2017 6:05 a.m.
Photo Gallery
PHS vs Mingus Boys Basketball 011717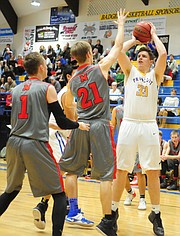 PRESCOTT — Plagued by poor shooting, sluggish defense and turnovers, Prescott High's boys' basketball team ultimately could not overcome a slow start against Class 4A Grand Canyon Region foe Mingus Union Tuesday night, Jan. 17, at the Dome gym.
The Marauders buried 11 3-pointers and forced 19 turnovers as they cruised to a 69-44 victory over the host Badgers. Mingus struggled from the floor in the first period. But better ball movement as the game progressed led to the Marauders' outside shooters improving their rhythm.
"We were getting good shots, and we weren't making them early on," Mingus coach Dave Beery said. "We haven't really been playing like that all year, because the only thing we've been good at all year is shooting [and defenses key in on that]. So, we weren't really expecting that, and it almost threw our guys off."
Mingus shooting guard Case Paquin scored a game-high 21 points, buoyed by six treys. He netted four 3-pointers in the third quarter alone.
"In the first half, I came out and I wasn't feeling it," Paquin said. "But I'm a shooter on this team, for sure. I work. I put in hours just shooting. I just trusted myself [in the second half]. My shooting coach put me through it, really. I came out and tried my best and shot every shot I could, and they just started falling."
Miles Tapija followed with 12 points and nine rebounds for Mingus. Jordan Pollock (10 points), Isaac Escalante (eight points, eight boards, five assists) and Michael Bryan (eight points, four rebounds) also contributed for the visitors from Cottonwood.
For the Badgers, only junior forward Charles Hicks scored in double figures with 11 points, seven of which came in the first period. Kody Jones and Cameron Parsons chipped in with seven points each.
"We have to find more effort than that if we're going to expect to be successful, and that was a frustrating night for us," Prescott coach Adam Neely said. "We were looking for an answer. And the problem is that the answer was hard work, and we were waiting for something else to be our answer."
Mingus led 30-19 at halftime before pulling away for good in the third, outscoring Prescott, 25-17, for a commanding 55-36 advantage. The Badgers registered only nine points in the second quarter and eight points in the final frame.
"We can't let shooting dictate effort," Jones said. "We have to play through it. We have to play hard. Defense is where we fell apart. Some, including me, don't give full effort all the time. Coach Neely puts us in a great defensive set to get stops, and it's on us to make those happen."
Added Prescott's Paxton Henry, "We were just lazy and lackadaisical. We were kind of jogging through stuff. We've just got to pick it up more on the effort and intensity level."
PHS, ranked 23rd in 4A going into the contest, fell to 2-4 in region and 5-7 in power-point games. The No. 28 Marauders improved to 3-4 and 4-8.
Mingus had to forfeit a 62-61 overtime win Dec. 16 at region opponent Bradshaw Mountain because Beery accidentally played a boy for 20 seconds longer than he was supposed to. Under Arizona Interscholastic Association (AIA) rules, a player can play no more than six quarters in one day on JV and varsity.
"We're kind of fighting and clawing our way to dig out of the hole we dug ourselves early in the season," Beery added.
Prescott has a quick turnaround, as the hometown squad will battle Washington for a non-region game at 7 p.m. today, Jan. 18, in Phoenix.
Follow Doug Cook on Twitter @dougout_dc. Reach him at 928-445-3333 ext. 2039, or 928-642-7865.
More like this story
SUBMIT FEEDBACK
Click Below to:
This Week's Circulars
To view money-saving ads...