Chew on This: Prescott Family Diner a 'Yankee diner'

By
Max Efrein
|
mefrein
Originally Published: January 12, 2017 7:49 p.m.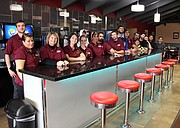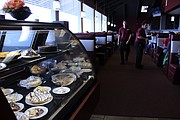 As Prescott resident and frequent restaurant diner Cal Horton so clearly put it, Prescott Family Diner is Prescott's only "Yankee diner."
"There's nothing quite like this anywhere around here," Horton said just after trying the restaurant for the first time. "It's basically got a Yankee style menu, as opposed to Denny's, which is middle-America, and Crackle Barrel, which is more southern."
There's a reason Prescott Family Diner offers an East Coast feel and taste: its owner, Tally El Bayomy, owns three almost identical diners in Pennsylvania.
About a year ago he came to visit Prescott with his son — who now attends Embry-Riddle Aeronautical University.
"Anywhere I go, I always check out the area to see what kind of business there is," El Bayomy said. "I noticed there was no diner like my diner, like my price, like my menu, so I said 'why not?'"
He liked the size and location of the former Prescott Steak House off Miller Valley Road and decided to begin remodeling the building in April of last year.
Eight months later he opened for business with just about every aspect of the building touched up to fit his vision.
"The only thing we kept the same was the roof," he said.
The way it's designed, the roughly 8,000 square foot building can now seat as many as 220 people at once.

Like most traditional diners, everything on the extensive menu is available anytime of the day.
Breakfast entrees range from about $5 to $7.50. Lunch averages at about $8.99 and dinner starts at about $12.50 and tops out at $18.50.
"Good food, it came out quick and very affordable," said Kristina Mazzella right after trying the restaurant for the first time during a busy lunch hour.
"The atmosphere is nice," said Wendy Kimball, who just tried the 3-month-old restaurant for the first time as well. "I liked it."
Horton remembers going to the Prescott Steak House several years ago. Though he didn't dislike the restaurant, he said this one is "lighter in feeling."

"It's neat and clean as it can be and they can handle a lot of business," Horton said. "The challenge is going to be getting a lot of business on a regular basis. To be a diner this large it takes a lot of work, but I think they're off to a real good start."

Though it is currently open from 6 a.m. to 10 p.m., El Bayomy anticipates eventually having the place running 24/7.
"As soon as I find the right team to help me run the place, I will be open 24/7," he said.
More like this story
SUBMIT FEEDBACK
Click Below to: