Chino boys pound Kingman to win 3A West opener (PHOTO GALLERY)
Cougars' Brooks scores game-high 19 in rout at home
By
Doug Cook
|
dougout_dc
Originally Published: January 11, 2017 6:02 a.m.
Photo Gallery
Chino Valley vs Kingman Boys Basketball 011017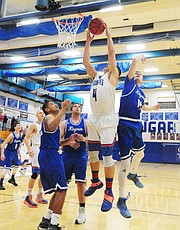 CHINO VALLEY – Chino Valley High's boys' basketball team hopes that its strong start to the Class 3A West Region portion of its schedule bodes well for the rest of the 2016-17 season.
A year after narrowly losing its league home opener and subsequently struggling down the stretch, the Cougars cruised to a 65-43 victory over Kingman Tuesday night, Jan. 10, at their main gym.
Chino improved its record to 11-8 overall, 4-4 in power-point games and 1-0 in region. The Bulldogs dipped to 4-10, 1-8 and 0-1.
"I'm convinced we can compete in our section [region]," Cougars coach Mike Fogel said.
Senior guard Skylar Brooks scored a game-high 19 points, including 11 in the first quarter, for the hosts. He netted five 3-pointers while adding three rebounds and four assists.
"You just always have to feel that way [that you will start a game shooting well from beyond the arc] and know that your team is going to get you the ball when you're hot," Brooks said. "It [win over Kingman] is going to help us out and give us a big confidence boost going into our next section [region] game. We're going to be ready."
Two other Cougars scored in double figures, as guard Brian Sutton finished with 16 points, seven boards and three assists. Gavin Cluff chimed in with 14 points and seven rebounds. Chino converted seven 3-pointers on the evening.
"We're a 3-point shooting team," Fogel said. "We start out that way. And as long as we're hitting, we do [keep shooting them]. It creates the momentum, and we ride on it."
Jaydon Loftin, who had missed Chino's past six games with an ankle sprain, returned to tally six points, nine rebounds and eight assists. He said Chino's primed for a late-season run.
"We've grown together more as a team, and we're passing the ball more and we're hitting our shots," Loftin added. "And, better than that, we're getting rebounds and getting second chances."
Fogel was quick to praise Loftin's effort, particularly with his penetration of Kingman's defense, on Tuesday.
"He came back after only one day of practice, essentially," Fogel said. "He broke down their defense and found our guys on the outside, wide open."
Kingman, which lost its eighth consecutive power-point game, was led by guard Elijah Howery's 13 points and three assists. Forward Tobias Bagby (10 points, eight boards) and post Anthony Pinto (10 points, four rebounds) also contributed.
Fogel praised Cluff for his defense of Pinto, whom he said is capable of scoring 20 to 30 points in any given game.
"We worked on some defensive techniques, which he [Cluff] executed tonight and helped keep that guy [Pinto] out of the game," the coach added.
Chino continues on in region play when it visits league-leading Northwest Christian (2-0) at 7 p.m. this Friday, Jan. 13, in Phoenix. Kingman plays host to Wickenburg in region on the same day and time.
Kingman drops Chino Valley girls' basketball, 54-36
Photo Gallery
Chino Valley vs Kingman Girls Basketball 011017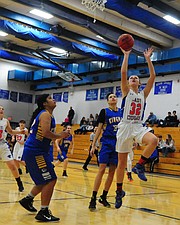 CHINO VALLEY – Kingman outscored Chino Valley High's girls' basketball team 22-12 in the fourth quarter en route to a convincing 54-36 victory.
In their Class 3A West Region opener Tuesday night, Jan. 10, at home, the Cougars trailed 32-24 at the end of the third period. But the Bulldogs drained back-to-back 3-pointers in the first minute of the fourth, seemingly sucking the life out of Chino.
The Cougars were paced by Felicity Stickrod's double-double of 12 points and 13 rebounds.
Chino, which has lost two straight power-point games, saw its record fall to 8-9 overall, 4-4 in power-point contests and 0-1 in the region. Kingman upped its mark to 4-5 in power-point games and 2-0 in region.
The Cougars will visit Northwest Christian (0-2 region) for their next league game at 5:30 p.m. this Friday in Phoenix. Kingman moves on in region when it plays host to Wickenburg (1-0) at 5:30 p.m. Friday.
Follow Doug Cook on Twitter @dougout_dc. Reach him at 928-445-3333 ext. 2039, or 928-642-7865.
More like this story
SUBMIT FEEDBACK
Click Below to:
This Week's Circulars
To view money-saving ads...