Snow, mud, water mean rescues: Stranded drivers present challenges for county crews
Originally Published: January 4, 2017 6 a.m.
PRESCOTT – Heavy snow and rain have kept Yavapai County search and rescue volunteers busy with life-threatening incidents.
The snowstorm on Christmas Eve resulted in numerous people becoming stuck and requiring help, YCSO spokesman Dwight D'Evelyn said.
That night, the Arizona Department of Transportation closed Interstate 40 between Williams and Seligman because of the snow.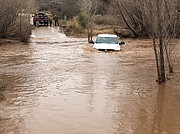 At about 10 p.m., YCSO dispatchers received two calls from groups stuck in snow and mud on Drake Road near County Road 73.
One call was from a couple who had been trying to get to Laughlin; the other was from a group of eight headed home to Las Vegas after visiting the Grand Canyon.
Members of the Sheriff's Jeep Posse and Yavapai County Search and Rescue Team made their way from Highway 89A to Drake Road.
About a half-mile past the Drake cement plant, they found a semi tractor-trailer rig blocking the road. Once past the rig, the rescuers found four vehicles whose drivers were unable to get past the truck.
The rescue crews continued on and picked up 10 people who had abandoned their vehicles.
On the way back to Highway 89A, they found three more people who had decided to walk away from their vehicles and picked them up as well.
All were taken to a Prescott hotel and said they exited I-40 at the closure and used GPS to find another way.
Not realizing the road was shut down already, Coconino County officials asked YCSO to close Drake Road because people were getting stuck in the snow. Drivers were going around the closure.
As they wrapped up that rescue effort, deputies were advised of a family of four stuck in the Juniper Woods Ranch area after they got off I-40 at Seligman and tried to detour around the closure. Deputies were able to give them a ride out.
"It is wise to remember that using GPS-based directions to access 'side' roads can be risky, and in the case of weather events, road conditions are always unpredictable and may provide danger to motorists," D'Evelyn said.
• On Jan. 1, a deputy responded to a report of two men trapped in their pickup truck in the rising water of Silver Creek off Bloody Basin Road.
"The water was up to the bottom of the windows when they tried to cross," D'Evelyn said. The truck was pushed downstream about 10 feet by the water. Before rescuers arrived, the men were able to get out and make it to the bank.
D'Evelyn pointed out that flowing water just 12 inches deep will float a car and 18 to 24 inches can sweep away a larger vehicle.
• Also on New Year's Day, a group was stuck at the Sycamore Cabin on Dugas Road and deputies could not reach them quickly because Sycamore Creek was running too high. The group was able to get out with the help of some incoming guests.
D'Evelyn said people making trips should be willing to cancel them in the case of "predictable weather events" to avoid problems. "In this case, a medical emergency at the cabin becomes immediately life-threatening when the arrival of rescue personnel is delayed by flood waters," he said.
• A couple from Kingman became stuck Monday, Jan. 2, in the mud northwest of Bagdad after a hunting trip. The wife walked a couple of miles to get a cell signal, D'Evelyn said. The husband was a paraplegic. The YCSO Jeep Posse responded and brought the man and woman out.
SUBMIT FEEDBACK
Click Below to:
More like this story