Are your (tattoo) regrets permanent?: Options for removal/alteration are limited

By
Max Efrein
|
mefrein
Originally Published: January 4, 2017 6:01 a.m.
Tattoos are hugely popular in the United States.
Statistics show that nearly one-fourth of Americans have at least one tattoo, compared with 12 percent of people in Europe.
Not all tattoos are a hit, however.
Whether it's a homebrewed tattoo a buddy agreed to do for free one drunken evening or the name of an ex-significant other, many come to realize down the line that they've made a mistake getting the skin-deep form of personal expression.
Kelli Jones, 36, is one such individual. Around 2008, she consciously decided to get a quarter-sized Arizona Sundogs logo tattooed on her left shoulder.
"The thought behind it was we were super huge Sundogs fans," Jones said. "At the time, they were a pretty big part of the community and our lives."
However, in 2014, the local hockey team suspended operations and its members went their separate ways.
"For a couple years we were hoping that they would come back … and that never happened," Jones said.
Her tattoo, therefore, has since lost much of its significance.
"It just doesn't have any personal meaning anymore," Jones said. "If they were still here I would probably keep the tattoo and be fine with it, but because it was kind of part of the past that's not really ever coming back, it just doesn't make sense to have it anymore."

In such a situation, there are only two things she can do: have the tattoo removed using a laser or cover it up with another, more appealing, tattoo.
Tattoo removal
Tattoo removal has become an increasingly popular option for those unhappy with the ink on their bodies, according to the American Society for Aesthetic Plastic Surgery (ASAPS).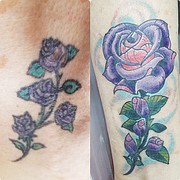 Just between 2011 and 2013, the total number of tattoo removal procedures in the U.S. jumped from 40,801 to 45,224, according to ASAPS.
Alicia Ray, certified laser technician with Body Oasis Laser Aesthetics, said much of why the practice has grown in popularity is because laser technology has improved significantly in recent years.
"Back in the late '80s, early '90s when lasers really started becoming a thing, there was only one laser for every skin type," Ray said.
This single laser frequency being offered at the time essentially wiped out the skin's melanin, causing treated areas to be completely white no matter what the natural color of the skin.
"The technology has changed to accommodate every skin type now," Ray said.
However, there are still many concerns over the effectiveness and the affordability of laser tattoo removal.
The procedure can cost anywhere from $50 to $300 per treatment session and it can take up to 15 or more sessions to completely eliminate a tattoo, Ray said.
"It depends on the size of the zone, how deep the ink is, the color of the ink and what color your skin tone is," she said.
Tattoo cover ups
Covering up a tattoo with another tattoo is an age-old way of turning something regretful into something more desirable.
Bryan Lewis, a tattoo artist who works at Leap of Faith Tattoo and Body Piercing, said he gets cover up requests in Prescott all the time.
"There's a lot of homebrewed tattoos around here," Lewis said. "We see a lot of junk and we have a lot of rehab people who are just covered in garbage."
Though cover ups can do the job — if done well — they tend to be much more expensive than the original tattoo.
"Usually they're a lot bigger and there is a lot more time and effort involved," Lewis said. "It's kind of magic. It's not like you can just throw anything over a cover up. It has to be very well designed to actually fit and hide it."
Given how small her tattoo is, Jones has decided to go with this option over getting the tattoo removed.
"I want to cover it up with a compass rose," said Jones, who is a geography teacher.
She has seen removals on other people and decided that isn't for her.
"You have to go in multiple times, I've heard it's very painful and it can be like $1,000 to $2,000," Jones said. "If they could remove it for the same cost as the cover up, then I might, but it's so small and hopefully easy to cover that I would just rather replace it with another piece of art that will stay with me and that I like."
More like this story
SUBMIT FEEDBACK
Click Below to:
This Week's Circulars
To view money-saving ads...