College Bowl Roundup: USC hits FG at gun, beats Penn State 52-49 in epic Rose Bowl
Originally Published: January 2, 2017 11:18 p.m.
PASADENA, Calif. — Matt Boermeester kicked a 46-yard field goal as time expired, and No. 9 Southern California rallied from a 14-point deficit in the fourth quarter for a spectacular 52-49 victory over No. 5 Penn State on Monday night in the highest-scoring Rose Bowl ever played.
Freshman Sam Darnold passed for 453 yards and five touchdowns while leading a jaw-dropping comeback for the Trojans (10-3), who won their ninth consecutive game and won their first Rose Bowl since 2009.
"It was a whole team effort," Darnold said. "That's the way it's been all year. We never gave up."
The Trojans were almost finished when they trailed 49-35 with nine minutes to play, but Darnold and the Trojans had something extra in one of the most entertaining chapters in the 103-game history of the Granddaddy of Them All.
Deontay Burnett, who had three TD catches, caught a tying 27-yard scoring pass from Darnold with 1:20 left to cap an 80-yard drive in 38 seconds with no timeouts available.
Leon McQuay III then intercepted a long pass by Trace McSorley and returned it 32 yards to the Penn State 33 with 27 seconds left to set up Boermeester, who missed two earlier field goals.
The junior confidently drilled the Rose Bowl winner, and he sprinted away to celebrate amid pandemonium in the packed stadium. "It's beautiful," McQuay said. "This is a special group of guys. Oh man, this is the time to step up. This is the time to make plays."
McSorley passed for 254 yards and threw two of his four touchdown passes to Chris Godwin for the Nittany Lions (11-3), whose nine-game winning streak ended in heartbreaking fashion.
Saquon Barkley rushed for 194 yards and two TDs for the Nittany Lions (12-2), who followed up their 21-point comeback in the Big Ten title game with another ferocious rally.
With one jaw-dropping play after another from two talent-laden offenses, the teams obliterated the combined Rose Bowl scoring record in the third quarter, surpassing Oregon's 45-38 victory over Wisconsin in the 2012 game.
The Nittany Lions' offensive stars put together a highlight reel for the ages during a 28-point third quarter. After trailing 27-21 at the break, Penn State scored three touchdowns on its first three snaps of the second half: a stunning 72-yard run by Barkley, a jaw-dropping bobbled 79-yard catch by Godwin and a 3-yard TD run by McSorley after an interception return.
Wisconsin wins Cotton Bowl 24-16, only Western Michigan loss
ARLINGTON, Texas (AP) — Troy Fumagalli had highlight catches for Wisconsin even before the big tight end's leaping 8-yard touchdown in the fourth quarter and his 26-yard gain on third down that effectively wrapped up the Cotton Bowl victory.
The game's offensive MVP also had a nifty one-handed grab on third down with his left hand — the one missing an index finger since right after his birth — to extend the eighth-ranked Badgers' opening touchdown drive. There was another leaping two-handed catch in the first half of a 24-16 victory Monday that denied Western Michigan a perfect season.
"It's special," said Fumagalli, a junior. "It's a great feeling to come out on top."
Fumagalli had seven passes thrown his way, and the 6-foot-6 junior caught six of them. The last two clinched the third consecutive bowl victory for the Big Ten runner-up Badgers (11-3).
After his TD catch between two defenders in the back of the end zone with 12:26 left made it 24-10, Western Michigan (13-1) took 9 minutes to score. Wisconsin was able to run out the clock after Fumagalli's big play on third-and-8.
"He's unbelievable," Western Michigan coach P.J. Fleck said.
With their "Row The Boat" mentality inspired by Fleck, the 12th-ranked Broncos (13-1) went from one win during his first season in Kalamazoo three years ago to the last FBS team other than No. 1 Alabama this season with a chance to be undefeated.
"Told them I was very proud of them, how much I love them, and the effort they gave," Fleck said about what he told his team on the sideline just before the end of the game. "We will continue to learn from this. We will embrace our past to create our future, and it just wasn't enough tonight."
The Badgers, who finished with 11 wins for the fourth time in seven seasons, were clearly bigger and stronger — especially up front.
Appleby shines, No. 20 Florida beats Iowa in Outback Bowl
TAMPA, Fla. (AP) — No. 20 Florida dominated the Outback with stingy defense and a persistent offense that did its job, too.
Chauncey Gardner Jr. returned one of his two fourth-quarter interceptions 58 yards for a touchdown, and graduate transfer Austin Appleby threw for 222 yards and two TDs to pace Monday's 30-3 rout of No. 21 Iowa.
With Gardner grabbing game MVP honors, the Gators (9-4) held up their end of what many expected to be a day defense ruled, especially considering Florida entered ranked 115th in the nation in total offense — five spots ahead of the sputtering Hawkeyes.
Conversely, the teams were sixth and 24th, respectively, in total defense.
"The MVP, it goes to our guys up front, the linebackers and the coaching staff because they put me in good position to make plays. ... It should be a team MVP," Gardner said. "Our motto is just go out there and have fun, and play our game."
Mark Thompson scored on an 85-yard pass play in the first half and Appleby, who spent the past four seasons at Purdue, tossed a 6-yard TD pass to DeAndre Goolsby to break the game open late in the third quarter.
Florida (9-4) rebounded from lopsided losses to archrival Florida State and No. 1 Alabama, scoring more points on Iowa (8-5) than the Hawkeyes allowed to Michigan, Illinois and Nebraska combined while ending the regular season on a three-game winning streak.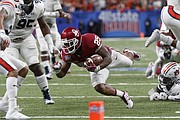 Mayfield leads Oklahoma to 35-19 Sugar Bowl win over Auburn
NEW ORLEANS (AP) — Baker Mayfield passed for 296 yards and two touchdowns, including one scoring pass to fellow Heisman Trophy finalist Dede Westbrook, and seventh-ranked Oklahoma ended its season on a 10-game winning streak, defeating No. 17 Auburn 35-19 in the Sugar Bowl on Monday night.
Sooners running back Joe Mixon heard repeated boos from Auburn fans who also shouted derisive comments regarding a recently publicized video of Mixon punching a woman in the face in 2014. Mixon, who has apologized for the assault, also drew cheers from crimson-clad Oklahoma fans with his play. His two short touchdown runs were among the highlights of a performance in which he gained 180 yards from scrimmage — 91 rushing on 19 carries and 89 receiving on five catches.
Auburn (8-5), which wound up in the Sugar Bowl despite dropping its last two Southeastern Conference games to Georgia and Alabama, entered the game hopeful that it would be buoyed by the return of quarterback Sean White, who'd missed the Tigers' final two games with a throwing shoulder injury. White led Auburn to a touchdown on its first series — Chandler Cox's 3-yard run on fourth down — but the quarterback left the game for good in the first half with a right arm injury.
With John Franklin and Jeremy Johnson taking the remainder of the snaps, the Tigers' offense was less consistent, increasing pressure on Auburn's 20th-ranked defense to keep the Sooners' fast-paced, high-powered attack in check.
That was bound to be a struggle.
Mixon broke loose for a 35-yard run in the third quarter that set up his second TD, which he scored from 4 yards out by diving for the pylon. Early in the fourth quarter, Samaje Perine took a direct snap for a 2-yard TD that made it 35-13.
With the Sooners (11-2) pulling away for their second Sugar Bowl triumph in four years, Auburn fans started filing out.
RUSHING RECORD
With back-to-back fourth-quarter runs of 16 and 15 yards, Perine reached the 83-yard mark, giving him the Oklahoma record for career yards rushing with 4,119. He added 3 more yards afterward to reach 4,122. The previous record of 4,118 was set by Billy Sims back in 1979. When Perine set the mark, Mixon quickly trotted toward him for a congratulatory embrace on the field.
More like this story
SUBMIT FEEDBACK
Click Below to:
This Week's Circulars
To view money-saving ads...