WWII sailor honored for his service in South Pacific: Artz used his machinery skills to work on airplanes
One of three brothers who served in the U.S. Navy during World War II, William "Bill" Artz, 93, received a nice honor Dec. 20 thanks to Granite Mountain Hospice, Post 6 Riders, and his family and neighbors.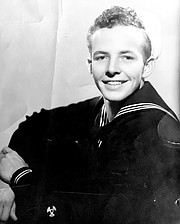 Artz and his wife, Lorie, came to the attention of the hospice agency because of Navy Recruiter Anthony Natale, who is purchasing the Artz home. Natale knew about the ceremony hospice offers to honor veterans with a ceremonial pin, framed certificate of gratitude for service, and a valor quilt, and asked if they would honor Artz.
Artz served in the Navy from 1943 to 1946 as Seaman 1st Class in the South Pacific. He had worked in a machine shop crafting parts for airplanes and received a delay the first time he was drafted, at the request of his employer.
He made two trips from the West Coast to South Pacific bases on the USS Cape Esperance carrying 50-60 airplanes – new ones heading to Guam, and planes needing repairs returning to the states.
In Manila, he said the people welcomed U.S. sailors, but they had a difficult time reaching land because of all the sunken ships that proved treacherous to navigate around.
At the close of the war, his ship brought aircraft and passengers home from Pearl Harbor.
"We were all just kids, on both sides, doing what we believed was right," he said.
After the war, Artz returned to employment in machine shops and with his wife, raised two sons. He also worked for more than 13 years with the Los Angeles County Fire Department.
In 1978, he and his second wife, Lorie, moved to Prescott, and he founded his own business, William Artz Engineering, making precision machinery for NASA's space program. Lorie took care of the company's bookkeeping and volunteered with hospice.
In 2008, at age 84, Artz retired. They have enjoyed their role as grandparents, and will be moving closer to town from their home out Williamson Valley.
More like this story
SUBMIT FEEDBACK
Click Below to:
This Week's Circulars
To view money-saving ads...