Prescott movie theater moves to reserved seating
This seat is RESERVED! Theater takes step into modern cinema experience

By
Max Efrein
|
mefrein
Originally Published: January 1, 2017 6:01 a.m.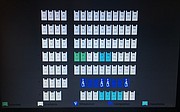 Movie theater-goers across the country are slowly needing to adjust to the modern age of cinemas.
No longer are the days of stiff chairs, basic concession stand options and rushing to arrive early to claim a seat.
The latter is the most recent update implemented by Prescott Picture Show, Prescott's sole commercial movie theater.
Just in time for the release of the new Star Wars film, "Rogue One: A Star Wars Story," the movie theater chain location installed a new ticketing system that requires customers to pick their seats either online or at the theater as they buy their tickets.
"It was a company-wide decision," said Brittany O'neil, Prescott Picture Show's general manager. "The main reason we did it here is if there is a really big movie, we would just have lines everywhere. People were getting kind of confused which line they needed to be in and they'd have to show up hours and hours early and almost kind of fight people to get to a good seat."
This was a noticeable problem last year when Star Wars: Episode VII came out, O'neil said. So many people were waiting in lines to see the movie on opening day that the theater's lobby nearly reached its maximum capacity of 1,066 people.
To alleviate the issue, O'neil had theater employees hand out numbered cards to everyone indicating their place in line. This allowed customers to leave the lobby and know for sure they'd get into the movie they showed up early for.
With this new system, that whole issue was avoided this year.

"The reserved seating made it so much better, because they can buy their tickets and they didn't have to stand in the lobby and wait, they have their seats," O'neil said.
So far, many customers are fine with the change.
"I like it," said Lucy Benson, who just finished watching a movie.
Benson is from California and has already seen her hometown's theaters make the switch.
"Most people want to have the reserved seats now because you're paying a premium to see a movie at a lot of these theaters," Benson said.
Some people are even excited by the idea that seats can be reserved from home.

"To me, it's kind of like flying on a plane," said Jason Yong, who was about to see Rogue One. "You get your assigned seat, you know where you're going and you get there at a certain time rather than getting there early and just sitting there."
Not everyone is happy with the new system, however.
"It's so frustrating," said Laura Hinchey, who was waiting for a friend so they could see Rogue One together.
Hinchey prefers picking her seat when she enters the screening room and dislikes the fact that the self-service kiosks don't allow customers to select seats that leave an empty seat between them and other movie viewers.
O'neil said not allowing gap seats is good for both the theater and its customers.
"That just helps us maximize purchase for tickets, because if we have a bunch of single seats scattered everywhere it will hinder us and a lot of people won't be able to see the movie because there are so many gap seats," O'neil said.
However, that function can be overridden by a theater employee if it's a problem, O'neil said.
While Harkins Theatres in Prescott Valley has not made the switch to reserved seating yet, many of the company's other locations have.
The Daily Courier was unable to reach the media relations department at Harkins Theatres for more information in time for publication.
Follow Max Efrein on Twitter @mefrein. Reach him at 928-445-3333 ext. 1105, or 928-642-7864.
More like this story
SUBMIT FEEDBACK
Click Below to:
This Week's Circulars
To view money-saving ads...