Need 2 Know: Prescott Valley Crossroads getting two new developments; Soldi Creative Cuisine closing; Mogies reopening

By
Max Efrein
|
mefrein
Originally Published: January 1, 2017 6 a.m.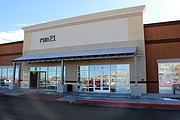 Maurices relocating
The women's clothing store Maurices will be relocating this spring.
The store is currently in the Prescott Gateway Mall.
Store representatives expect to close up shop at the mall in late February and reopen next to the recently opened Rue 21 on the west side of the Crossroads shopping center in early March, said Kathy Strom, a district manager with Maurices.
Native Grill & Wings coming
A Native Grill & Wings has submitted plans with the Town of Prescott Valley to construct a location on the Crossroads shopping center. The plans include a drive-thru.
The restaurant chain will be building on an empty lot on the west side of the shopping center.
It is believed the restaurant will be open sometime in summer 2017, said Ben Hooper, economic development coordinator for the Town of Prescott Valley.
Soldi closing
The owner of Soldi Creative Cuisine, Aimee Novak, has announced on Facebook that she will be closing her restaurant permanently at the end of service on Jan. 6, 2017.
The restaurant has been in business for a little more than four years.
Novak said there are no simple reasons for the closure.
"Many factors have led us to this decision related to both the business end and the personal side," she said in the Facebook post.
"I recently had a health scare that made me re-evaluate the important things of life. Also, my investors (that also happen to be my parents) need to focus on themselves and prepare for a happy and healthy retirement."
Novak hopes anyone with a gift card will be able to use it before the closure. If they cannot, she will be offering refunds until Jan. 31. To get a refund, Novak said to call Soldi at 928-777-0444 and leave a message and someone from the restaurant will return the call.
Mogies reopening
Mogies Mongolian Grill is reopening on Monday, Jan. 2, after a brief holiday closure. The owner, Matthew McGrew, has remodeled the space, adding a bar and touching up the interior paint.
"We have a few more specialty drinks now," McGrew said.
To submit items for the Courier's Need2Know, email twieds@prescottaz.com; for legal advertisements, email tbryant@prescottaz.com.
More like this story
SUBMIT FEEDBACK
Click Below to: