Photo by Nanci Hutson.

Originally Published: February 28, 2017 6 a.m.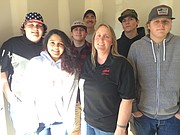 At Bagdad High School, woodshop and culinary arts students collaborated to build something with far more lasting impact than the usual first-time birdhouse that gets forgotten in a students' garage.
They opted to invest $1,600 to build a no-frills SAFE sleeper "cottage" suitable to house one or two people who are now homeless.
On Friday, Feb. 24, a group of the participating students delivered the 8-by-8-foot plain wood-sided, pitched roof cottage to the Coalition for Compassion and Justice Stagger Straight Shelter on Madison Avenue. The cottage that is 9 feet at its highest peak joins another such cottage with a painted blue exterior donated to the shelter by the Hillside Baptist Church congregation.
"It's incredible to know we get to make such a difference in another person's life," said junior Kassie Estrada of what was a
six-class Lead2Feed project that was part of a collaboration between the Family Career Community Leadership of America organization and the SKILLS Construction USA and electrical classes.
Fellow student Hunter Gates said he is so proud he was able to be part of building a temporary home for someone who will see this very simple structure as their ticket to a slice of independence and privacy. The cottage is just big enough for two sleeping bags or mattresses, maybe a small chair and heater with a wall shelf where the person can store clothes and other belongings. The cottage has a side window and a locked front door.
"It's amazing," Gates said, noting this project also enabled students who never picked up a hammer before to learn a bit of the construction trade.
Coalition for Compassion and Justice Executive Director Paul Mitchell wiped away some tears as he commended the generosity of a new generation of people eager to reach out to their less-fortunate neighbors.
"This is just an unbelievably beautiful place for someone to sleep," Mitchell said. The United Way of Yavapai County Executive Director Annette Olson teamed up with CCJ in December with a pledge of $1,500 to build one of these cottages.
Bagdad High School stepped up to the challenge, with plans to build more on commission.
At this moment, Mitchell said he and the CCJ staff are working with area church congregations, as well as with some local mobile home parks, about the potential to locate these cottages on their properties.
The cottages have no indoor plumbing, so the occupants require access to either permanent or portable bathroom facilities.
CCJ started in July allowing the homeless to erect tents outside its thrift store on Fair Street on their property. That was not a popular option with some downtown neighbors, businesses and even city leaders.
In November, a CCJ supporter, Howard Mechanic, opted to buy a building to house a shelter. CCJ intends to embark on a fundraising campaign to buy the building and transform it into the headquarters for all of its outreach services, including its daily congregate dining facility.
The shelter, and now the sleep cottages, are all pieces of what CCJ and its nonprofit partners say is an effort to end homelessness in Prescott, an ongoing challenge in a place with limited housing and prospective tenants who wrestle with addiction, mental illness and criminal histories. Homelessness here and everywhere requires compassion and connections to a wide range of community social service supports, Mitchell said.
Bagdad High School's outreach is proof "that we are spreading out our response to poverty and homelessness," Mitchell said. "To have this group of young people take on this project is just so hopeful."