Car drops seven stories; driver survives
Originally Published: February 28, 2017 6:01 a.m.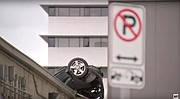 A car driven by a teenager crashed off a parking garage in Houston Sunday afternoon, falling seven stories and landing upside down onto the roof of another building.
Upon impact, the car became partially lodged in the roof of the neighboring plumbing and hardware store.
When firefighters arrived they found the unidentified teenager sitting inside the closed, locked store showing signs of shock.
He was taken to the hospital with cuts and lacerations, but otherwise in stable condition.
Fire officials said it was unclear why the young man drove off the parking garage.
More like this story
SUBMIT FEEDBACK
Click Below to: