PV boy wins third consecutive county spelling bee
Prescott Valley boy spells 'euthanasia' to win competition in 42 rounds
By BILL HELM, Camp Verde Bugle
Originally Published: February 26, 2017 5:58 a.m.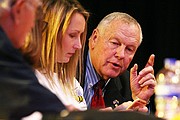 CAMP VERDE – Prescott Valley's Tanner Dodt is becoming a bit predictable.
But the 12-year-old's third consecutive Yavapai County Spelling Bee championship was far from boring.
It took 18 rounds to whittle the competition down from 35 contestants to two – Tanner, a seventh grader from Heritage Christian Home Educators, and Sedona Charter School sixth grader Lazor Lanson.
It took an additional 24 rounds before Lazor missed the word douane, a French word meaning a custom house or customs.
Moments later, Tanner correctly spelled the word cacophony, then the word euthanasia to win the 71st annual Yavapai County Spelling Bee.
Friday's competition, held at the Philip England Center for the Performing Arts on the Camp Verde Unified School District campus, lasted just about three hours. Said Yavapai County School Superintendent Tim Carter, the longest spelling bee in his tenure was 32 rounds.
"Most of them are done in about 10 or 12 rounds," Carter said. "But today, we had some phenomenal spellers. They were like 'tell me the word. I'm going to tell you the origin.' This was just amazing, and they were so young."
For a now three-time winner of the county's spelling bee, Tanner admitted being far from relaxed as he and Lazor battled in a finals competition that lasted for more than an hour.
"I've never been in a spelling bee that long," Tanner said following the competition. "But we were both very good spellers. You could tell we both studied a whole lot. [Lazor is] a really good speller."
Truth is that both Tanner and Lazor competed in relatively long school spelling bees this year. Tanner finished first in his school's 28-round bee, and Lazor finished first in his school's 19 round competition.
"The last eight, nine rounds were just me and my friend Max," Lazor recalled.
Having won three of three county spelling bees, Tanner's main competition was in his first county bee.
"I think I did pretty well," Lazor said. "I'm happy."
Also finishing in the top five Friday were Naina Misra of Bagdad Elementary School, ToniAnn Harris of Abia Judd Elementary School and Makenna Amis of Beaver Creek School.
Other Verde Valley students to compete in the bee were Isabell Allen, a sixth grader at Camp Verde's American Heritage Academy; Natalie Stafford, a sixth grader at Cottonwood's American Heritage Academy; Matthew Piper, a fifth grader at Camp Verde Elementary School; Daniela Vega, an eighth grader at Camp Verde Middle School; Abbie Booth, a seventh grader at Clarkdale-Jerome School; Jose Esquer, a fifth grader at Cottonwood Elementary School; Angel Perez, a sixth grader at Cottonwood Middle School; and Madi Banks, an eighth grader at Mountain View Preparatory in Cottonwood.
At 1 p.m. Saturday, March 25, Tanner will compete in the 2017 Arizona Spelling Bee will be held at Eight/AZ PBS, 500 N. Central Ave., 6th Floor in Phoenix.
Should Tanner win the state competition, he will compete in the 89th annual Scripps National Spelling Bee May 31-June 1 in Washington, D.C.
More like this story
SUBMIT FEEDBACK
Click Below to: