Barista in training through Stepping Stones
Camp expands skill sets for employees going through job-training program

By
Max Efrein
|
mefrein
Originally Published: February 26, 2017 6 a.m.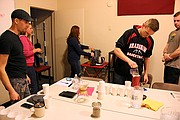 In just two minutes, steeped coffee can go from "meh" to "blech."
Employees of Step One Coffee House learned this first hand during the shop's first-ever barista camp hosted by their manager, Brandon Duncanson, on Monday, Feb. 20.
"The main idea for our barista camp is that we really want to offer something unique and different that you don't find at other coffee shops," Duncanson said. "We want our baristas to be knowledgeable about the beans they're using — the origin — and how that imparts on the flavor; the full process that they're going to utilize; and how each step affects the coffee in the end.
"This allows us to focus and customize the coffee for our customers."
The eight-hour educational session was spurred by two additions Step One Coffee House is gearing up to offer: French press and pour-over using a Chemex coffee maker. Both are specialty brewing methods that are gaining in popularity within the coffee shop industry.
"I feel like people are paying a lot more attention to the manner in which they're coffee is brewed," said Duncanson, who started working for Step One Coffee House about eight years after working as a barista in a Barnes and Noble café.

At one point during the class, Duncanson showed the shop's baristas how to properly use a French press, putting emphasis on how even the slightest variations in the steep time, temperature of the water and grind size of the coffee can significantly alter the strength of the brew.
"Whenever we're doing an experimenting process for any type of brewing, what you want to do is utilize six key components," Duncanson said.
Those six components are: the bean, the grind, the water quality, the temperature, the brewing time, and the water-to-coffee ratio.

"To identify what is contributing to the flavor of your coffee, you have to make sure you lock in five of the six variables," Duncanson said.
For one test, Duncanson had the baristas each brew the same exact coffee with a French press, but at different time intervals. The lowest brewing time tested was three minutes and the highest was five minutes.
After taste testing each brew, there was a unanimous decision that the three-minute brew was slightly weak in flavor while the five-minute was overwhelmingly powerful. The four-minute brew was just right.
While is seems obvious that baristas would need training on how to serve a good cup o' joe, not all shops go into such depth on why coffee is served a particular way and how the quality is in the details.
"A couple of us have worked at Starbucks, and it's nothing like this," said Jaimie Kaiser, who has worked as a barista at Step One Coffee House for about five weeks.
Part of the reason Step One Coffee House takes this additional time to empower its employees with knowledge and skillsets is because it also serves as a job training program for those who might otherwise have difficulty finding a job anywhere else due to a lack of work experience or turbulent past.
For instance, Daniel Burke has been working for Step One Coffee House for about five months.
When Burke was 18, he was diagnosed with Crohn's disease, a chronic disease that affects the lining of the digestive tract. To help him manage the pain, he was prescribed oxycodone. Over time, he developed an opiate addiction and it lead to heroin use.
He wound up living in his car and resorting to criminal activity to pay for his addiction.
"I was just very desperate," Burke said. "Addiction is very difficult to understand unless you've been through it."
He ended up getting charged with check fraud for writing bad checks and organized retail theft for stealing from retail stores. The sentence was three years in prison.
When he got out, finding any form of employment was challenging.
"Having to write organized retail theft on the bottom of a job application was just kind of a no-go with really anywhere," Burke said.
When he turned to Stepping Stones, the non-profit organization that owns Step One Coffee House, the executive director, Robin Burke (no relation), was willing to give him a chance.
"I'm just really grateful," Daniel said, "All I want to do is live a normal life. That was my past and I was an idiot for a while, but I feel like I'm a pretty hard worker. It's really good for her to give me this opportunity, because when I do move on I'll have a solid reference I can put down."
While the full barista camp is reserved for Step One Coffee House employees, Duncanson does offer what is called Step It Up Brewing classes for Stepping Stones Gratitude Club members throughout the year. The classes are designed so coffee lovers can learn how to brew a great cup of coffee at home and experiment with a variety of brewing methods (Turkish, pour over, cold brew, etc.), said Alexis Miller, spokeswoman for Stepping Stones.
"While the classes are for members of our Gratitude Club, we welcome anyone who wants to come and learn with us," Miller said.
The next class will be on March 25. Duncanson will be teaching a class about cold brew coffee. The classes are free but RSVP is required. All classes are held at the Step One Coffee House and run from 9 to 11 a.m. Those interested can call the coffee house at 928-759-3770 for more details.
More like this story
SUBMIT FEEDBACK
Click Below to: