Second sign theft suspect arrested
Originally Published: February 24, 2017 6:02 a.m.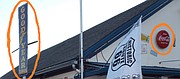 PRESCOTT VALLEY – The second of two suspects in the December 2016 theft of historic signs taken from a Seligman business has been arrested.
Robert Sadova, 48, was taken into custody at a home in Prescott Valley on an unrelated felony warrant in Prescott on Thursday, Feb. 23.
On Tuesday, Feb. 21, the Sheriff's Office announced that William Martin Clark, 38, of Prescott Valley, was currently in the Apache County jail in connection with the case.
Since the reported theft of two historic signs, YCSO detectives developed information identifying Sadova as a suspect, spokesman Dwight D'Evelyn said, and Clark has been interviewed and admitted involvement in the theft.
The two stolen signs, one advertising Goodyear Tires and the other, Coca-Cola, have not been found.
Detectives note the possibility that someone may have bought the signs without knowledge they were stolen. If you have possession of these signs, please call Detective Mark Yates at 928-777-7273.
Sadova was booked into the Camp Verde jail on a $10,000 bond. Charges against him regarding the sign theft and pending.
Related Stories
More like this story
SUBMIT FEEDBACK
Click Below to: