Kellogg's unveils Pop-Tarts pizza, tacos at NYC cafe (video)
Originally Published: February 22, 2017 6:02 a.m.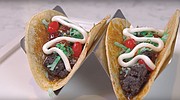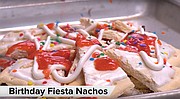 NEW YORK (AP) — Pop-Tarts might not just be for breakfast anymore.
Kellogg's is giving the public a taste of some unique flavor combinations featuring the morning time treat by transforming its New York eatery into a Pop-Tarts Cafe this week.
Some of the menu items include:
Personal Pop-Tarts Pizza
Pop-Tarts Burritos
Pop-Tarts Milkshakes
Chili Pop-Tarts Fries
Pop Tarty Tacos
Birthday Pop-Tart Fiesta Nachos
Pop-Tarts Cake Toppes
Tart-A-Misu
Pop-Tarts Cheescake
The pop-up Pop-Tarts Cafe is open through Sunday in New York City's Times Square.
Watch the video below to check out how they're made, and try to create your own Pop-Tarts creation.
SUBMIT FEEDBACK
Click Below to: