Gordon looking for NBA dunk title, and Jones may be in his way (Video)
Originally Published: February 18, 2017 6:02 a.m.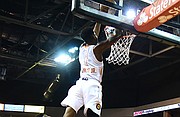 NEW ORLEANS — Aaron Gordon is not giving any hints on what he'll do for an All-Star dunk contest encore.
He just hopes it's enough this time around.
The runner-up in last year's All-Star dunk contest, Gordon is likely considered the favorite going into this year's edition that will be held on Saturday night. The Orlando Magic forward lost a dunk-off a year ago to Minnesota's Zach LaVine, who is injured and not defending his title.
"You're going to have to wait until Saturday to see my ideas," Gordon said. "It's going to be innovative. It's going to be technologically oriented. It's going to be original and creative. You'll see."
Gordon will go up against DeAndre Jordan of the Los Angeles Clippers, Glenn Robinson III of the Indiana Pacers — and perhaps the wild-card in the field, Derrick Jones Jr. of the Phoenix Suns.
"I mean, it means a lot to me, but I don't let that get to my head," Jones said. "I know I've got to go out there and be humble and hungry as always. I'm just going to go do exactly what I've got to do."
Jones has three dunks in his NBA career. Then again, he only has five baskets so far.
He watched LaVine and Gordon go head-to-head in Toronto last year, never thinking at the time he was 12 months away from being on that same stage.
"I watched the whole dunk contest last year," Jones said. "They put on a great show ... and now I get to be part of it this year. I know it's going to be great."
Gordon said he's looked at some of Jones' high-flying work online, but that he's focusing more on his dunks than anyone else's. And he's glad to have helped put some shine back on the dunk contest.
"The dunk contest was getting dull," Gordon said. "People were starting to count it out. They were actually talking about putting the 3-point contest at the end of the night instead of the dunk contest at the end of the night because there were so many great shooters. There's no more talk about that."
More like this story
SUBMIT FEEDBACK
Click Below to: