Valley Queen playing at Raven Café Feb. 17

By
Max Efrein
|
mefrein
Originally Published: February 16, 2017 7:47 p.m.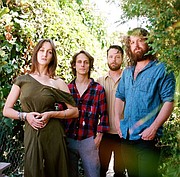 Essentials
What: Valley Queen
Where: Raven Café, 142 N. Cortez St., Prescott
When: Friday, Feb. 17, 8 to 11 p.m.
Admission: Free
Contact: 928-717-0009
A classic roots rock band with a twist of contemporary southern California flavor is making a pass through Prescott this Friday evening, Feb. 17.
Headed by vocalist Natalie Carol, the four-member Los Angeles band Valley Queen is commonly said to remind listeners of groups such as Fleetwood Mac and My Morning Jacket. They'll be playing at Raven Café, 142 N. Cortez St., from 8 to 11 p.m.
Raven Café's sound engineer, Jacob d'Armand, recalls working with Valley Queen last year when the band first performed in the area.
"They have an earthy base of approachable southern California rock guitar, bass and drums coupled with vocal stylings that are both raw and ethereal, a la Fiona Apple," d'Armand said. "I personally enjoyed them, and think folks can expect an awesome set from these laid back rock & roll storytellers."
Over the past year, Valley Queen has been recording tracks for their debut, full-length LP and have played lauded shows at an array of venues, opening for Lucero, LP, Laura Marling and The Wild Reeds, as well as headlining Pappy and Harriet's in Joshua Tree and the Echo Park Rising Festival, according to a press release.
In August of 2016, they released the singles "In My Place" and "High Expectations" on Canvasback Music/Atlantic Records to wide acclaim, the release said.
Music critics have been welcoming of Valley Queen's sound.
Pranaz Trewn from Stereogum wrote that Valley Queen has "never sounded better than they do on 'In My Place.'"
Bob Boilen from NPR's All Songs Considered praised that "Valley Queen comes from the Neil Young school of great music" and that Carol's voice "is simply amazing." The Village Voice noted Valley Queen has "stayed true to their roots while embracing the psychedelia of California rock – and making some damn good music along the way … anchored by Carol's enthralling vocals."
Adding energy to the songs are Shawn Morones, Neil Wogensen and Gerry Doot on lead guitar, bass and drums.
Admission to the show on Friday is free.
More like this story
SUBMIT FEEDBACK
Click Below to:
This Week's Circulars
To view money-saving ads...