64-year-old stunt pilot plays teenage girl in movie? Really?

Originally Published: February 16, 2017 5:59 a.m.
Updated as of Sunday, February 19, 2017 5:56 AM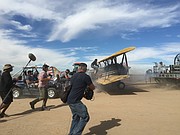 Movie theaters and times for Thursday, Feb. 16
Harkins Prescott Valley 14 -
4:25 p.m., 10:25 p.m.
Picture Show @ Frontier Village – 3:15 p.m.
"The Space Between Us" stars Gary Oldman, Asa Butterfield, Britt Robertson and Carla Gugino.
Alan Hoover, 64, was one phone call away from selling his 1943 Stearman biplane. But the caller didn't want to buy it, he wanted Hoover to fly it – dressed like a girl.
Thus began his career as a stunt pilot in the film "The Space Between Us." Actually, it's the only film he has worked on, but he has his Screen Actors Guild card and would work again if called upon.
The Paulden resident said, as part of the agreement with his wife, Lauri, to move from Indiana back to Arizona, he would sell the Stearman, something he had considered doing off and on. He was winding up a 23-year career with Southwest Airlines following 24 years as a U.S. Air Force fighter pilot and test pilot.
"A researcher for the movie saw it the day I put it up for sale. He called and asked if I would be willing to fly it," Hoover said.
The movie required a crop duster plane, and Stearman owners often converted these surplus World War II training biplanes by taking out the front seat and adding a tank for fertilizer or pesticide. Hoover's airplane was a converted crop duster that was "reconverted" back to a two-seater. He agreed to modify it yet again to become a crop duster for the film.
Adjusting his flight schedule with the airlines, he was ready to commit to three weeks filming near Albuquerque, New Mexico.
"It's amazing what they do. They filmed the whole thing in 33 days. It was phenomenal," he said.
The storyline to "The Space Between Us" follows a teenage boy whose mother dies in childbirth after their spaceship lands on Mars. As a 16-year-old, the boy, Gardner Elliot, befriends a girl, Tulsa, online who is a streetwise foster child. Gardner travels to Earth in search of his father and meets up with Tulsa.
At one point, they jump into an old crop duster – here's where Hoover comes in – to fly to California. The plane runs out of gas mid-air, and they are able to land the plane on a road, but with no brakes, it veers off and smashes into an abandoned barn and explodes. The teens are able to jump out just before it hits the barn.
Hoover explained how there were cameras inside the plane, under the plane, alongside the plane and inside the barn. They filmed the sequence dozens of times – so many, in fact, the starter "blew up" and needed replacing.
At one point, he was asked to taxi the plane faster toward the barn and to get it a little closer, stopping just short of crashing into it.
"I came in so fast and got so close that the two cameramen inside the barn dropped their cameras and ran out the back door," he said with a laugh.
Hoover called the filming process quite fascinating.
"They do whatever it takes to get it completed. They are on a budget, on a schedule," he said.
A helicopter pilot flew with him in formation and filmed Hoover during different sequences, including at take off during a chase scene and narrowly missing a semi-truck.
He wore a blond wig with a red bandana to look like Britt Robertson, who plays Tulsa, and spent entire days in costume. He wasn't allowed to keep the wig, he said, but he found one later to buy for his Halloween Tulsa look-alike costume.
Hoover still owns the biplane, and his wife, Lauri, appears fine with that. Her father, after all, trained in a Stearman during WWII, and she said everyone loves them.
"Alan has a lot of experience. He knows the airplane, he knows what he can and cannot do. He's had close calls before. He's had a lot of his self tied up in that airplane," she said, adding that she would definitely support his decision for another stint as stunt pilot if he's up for it.
More like this story
SUBMIT FEEDBACK
Click Below to:
This Week's Circulars
To view money-saving ads...