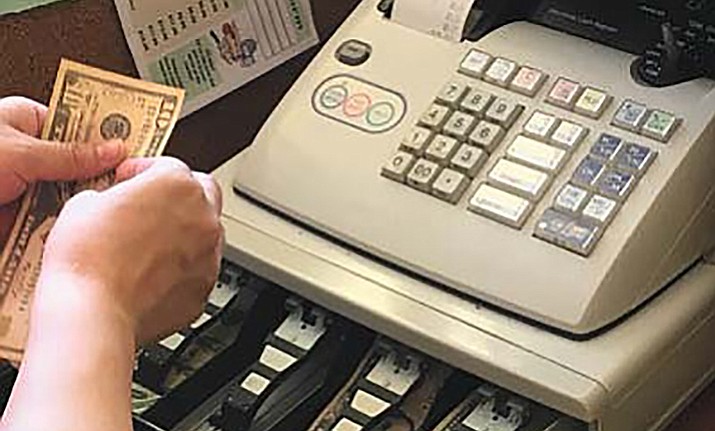 Originally Published: February 15, 2017 5:59 a.m.
In order to meet the community's expectations for leadership from the Prescott City Council, a councilman urged his fellow members this week to move forward with a 0.75-percent sales tax initiative.
"People put us here to be leaders," Councilman Steve Sischka said this week, during continued discussion of the city's more than $78 million public-safety pension (PSPRS) shortfall. "I think we should put on our big-boy pants, and get out there with a 0.75-percent (sales tax increase)."
A majority of members appeared to agree Tuesday, Feb. 14, when the council returned to the issue that has been topping agendas for months.
Despite the basic agreement, though, some questions remained, and council members took no vote on the issue this week. Rather, they agreed to set another meeting for Tuesday, Feb. 21, for discussion and possible action.
At issue: The ballot language that will go to Prescott voters on Aug. 29 for a proposed PSPRS-related sales tax increase.
The date is already set, after the council decided on Jan. 31 to call a special election to coincide with the regular City Council primary. At the time of the earlier vote, council members agreed that the details of the sales tax – its amount, duration, and dedication – would be decided in subsequent meetings.
Several council members pushed this week for making that decision as soon as possible. Councilwoman Billie Orr, for instance, said council members had already "studied this issue upside-down and inside-out."
And referring to an informational graph that showed increasing obligations in coming years if the city pays only the required amount each year, Orr said, "Had something been done earlier, we would not be in the situation we're in."
City officials have explained that although the additional 0.75-percent in sales tax revenue (currently generating about $10 million per year) would not be expected to completely pay off the city's pension obligations in 10 years, they say paying down a significant portion of the shortfall would free up more money each year for other general-fund costs.
According to information from Budget and Finance Director Mark Woodfill, about 72 percent of the approximately $30 million in unrestricted general-fund revenue is currently going toward the police and fire departments (including the PSPRS payments).
That leaves less than 30 percent for other general-fund functions, such as recreation, library, economic initiatives, general government, grant matches, and the airport.
In an attempt to reduce the total PSPRS shortfall somewhat before going to the voters, the council has explored more than a dozen options, and recently reduced that number to about six feasible ways to generate revenue/cut costs.
After earlier discussing options such as selling off surplus city property, the council focused this week on using a portion of the $13 million in the general-fund reserve to make either a balloon payment to the PSPRS or several smaller payments, as well as increasing the efficiency of the police and fire departments through "alternative service delivery."
Up for consideration on the reserve fund was making a payment of anywhere from $4 million to $10 million to the PSPRS. Most council members ultimately appeared to agree, however, that the city would be best served by maintaining at least $12 million in its reserve fund to deal with emergency costs or another economic downturn.
On the alternative-service delivery option, City Manager Michael Lamar listed a number of actions that already have been taken by the police and fire departments to bring down costs, and to reduce the number of enrollees in the PSPRS.
For instance, he said both departments already use their volunteer forces to do many of the tasks for which a sworn officer is not required. Volunteers with the Citizen on Patrol (COPS) contribute more than 7,000 hours per year, Lamar said.
In addition, the fire department uses non-sworn personnel to do fire inspections, with oversight by a PSPRS member.
Pending changes could include: bringing in a third party to do plans-examiner duties in the fire department, and extended use of the new Tri-Tech Computer Aided Dispatch (CAD) in both departments to help "triage" calls, so an appropriate response is sent to the scene.
Lamar also brought the "hypothetical" possibility of contracting out city functions such as utilities, solid waste, street maintenance, the airport, or facility leases. He stressed that such options would require considerable study and council review, and are merely options for discussion.
City Attorney Jon Paladini told the council that his department would prepare some basic ballot-language options for next week's meeting. The council could then either make a decision on the ballot language on Feb. 21, or wait until its regular voting session on Feb. 28.
More like this story