Hotrod is hot stuff at Westminster Dog Show
Chihuahua from Prescott wins best of breed in prestigious show

By
Nanci Hutson
|
HutsonNanci
Originally Published: February 14, 2017 6 a.m.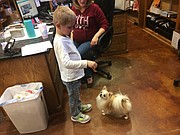 Hotrod, the long coat, gold and white-haired Chihuahua from Prescott, is proving to be hot stuff at the Westminster Kennel Club Dog Show hosted at Madison Square Garden in New York City.
On Monday morning, the American Kennel Club long coat Chihuahua champion won the best of breed at what is considered by most dog breeders to be most prestigious dog show in the canine world. The five-pound show pup's owner and handler, Michelle Herod, informed her family of the win that assured Hotrod's televised performance in the second round of the toy group competition on Monday night.
Herod, the owner of Goodwin Medical Supply and longtime Chihuahua breeder and show dog competitor, said last week that she had high hopes for Hotrod in the breed competition, and after that she would be delighted with whatever happened.
The Westminster dog show will be judging more than 200 breeds and more than 2,500 canine contestants. The official show started Monday and will continue through today.
The 3-year-old Hotrod has spent his entire life performing at different dog shows across the country, and has continually earned high rankings in all of his shows. A friendly dog, who can be shy but never fearful of other much larger dogs, Hotrod's key features are his tiny, yet perky ears and his perfectly curled tail. His training is rooted in rewards, with Hotrod eager to do just about anything for a cookie.
Herod followed the passion of her mother, Alice Thompson, in starting to breed long coat Chihuahuas back in 2001. She started with a couple dogs, and now she has 20 base dogs and 12 horses on her Prescott property. She started showing her dogs in 2008; her first win was at the Kennel Club in Palm Springs.
One of Herod's specialties is a merle colored Chihuahua; the dogs grey and white mottled coloring similar to that of an Australian shepherd.
Chihuahuas come in both smooth and long coat, and are believed to have ancient origins in Mexico, the Aztecs, Egypt, Sudan and Malta. In the United States, Chihuahuas have been a registered breed for a century.
The Westminster website explains that a yellow Chihuahua was once believed to guide "its owner's soul across the river of death to the other side."
"Clever, gigantic in heart and personality, this no more than six pound companion is much beloved by owners," the site reads.
Herod's daughter, Erica, said she heard from her mother on Monday that Hotrod fulfilled her expectations in winning his breed. He will now be part of the nationally televised portion of the show that aired Monday night, Feb. 13.
"It's exciting, definitely," Erica Herod said of her mother's first time invitation to the Westminster Kennel Dog Show. "Whatever comes next is a bonus."
More like this story
SUBMIT FEEDBACK
Click Below to: