Carjacking suspect shoots at Troopers before crashing
Originally Published: February 13, 2017 2:10 p.m.
Updated as of Monday, February 13, 2017 9:19 PM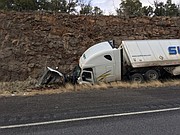 A man who was reportedly driving erratically on Interstate 17 Sunday, Feb. 12, shot at State Troopers before crashing head-on into a semi tractor-trailer, a Department of Public Safety news release said.
The suspect, whose identity has not been released, was reportedly driving a Mustang "recklessly" southbound on I-17 about 10 a.m., north of Camp Verde, the news release said.
The Mustang collided with a vehicle, then the suspect took a white SUV from that scene with a rifle and drove off, headed north on I-17.
Troopers pursued the SUV, and the suspect fired on them, but no one was struck, the news release said.
At 10:20 a.m., the SUV crashed head-on into a semi-truck that was southbound at about milepost 307, 15 miles south of Munds Park. After colliding with the semi, the suspect confronted a Yavapai Deputy Sheriff who assisted in the pursuit. The deputy discharged his weapon at the suspect, DPS said.
The suspect sustained serious injuries in the collision and was flown to a hospital.
The semi's driver suffered minor injuries and was taken to a hospital by ambulance.
I-17 was closed from approximately 10:20 a.m. to 8:58 p.m. while the accident was investigated.
More like this story
SUBMIT FEEDBACK
Click Below to: