Kenneth and Margaret Moore celebrate 60 years of marriage
Originally Published: February 12, 2017 6:03 a.m.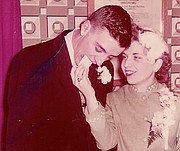 Kenneth and Margaret Moore, who raised their family in Claremont, New Hampshire, and currently reside in Prescott Valley, are celebrating their 60th wedding anniversary Feb. 22. They were wed in 1957 after graduating from high school in 1956. The couple renewed their vows on Feb. 11 in a small ceremony in Prescott Valley, and then travel to Lake Havasu, which has become their annual anniversary destination. This year, Ken and Peg will be honored by their family, children, grandchildren, and friends sending well wishes by video, compiled and to be viewed on their special day. The Moore's family includes their children, Debbie Bond (Mark) of Claremont, with three grandchildren; son, Gary Moore, also of Claremont; daughter, Donna Davis (Ray) of the Atlanta, Georgia area, with five grandchildren and a great-grandchild; and daughter, Diane Williams (Mike) with three grandchildren, of Gainsville, Georgia.
More like this story
SUBMIT FEEDBACK
Click Below to: