Whole Foods closed due to declining profits

By
Max Efrein
|
mefrein
Originally Published: February 11, 2017 6:02 a.m.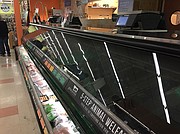 Whole Foods Market is now a store of the past for Prescott.
Wednesday morning, Feb. 8, the grocer's corporate office announced it would shut down the Prescott location along with eight other stores in other states because of declining profits.
"As we work to position Whole Foods Market for long-term success, we have carefully evaluated our portfolio of stores to align with a more thoughtful growth strategy," said Whole Foods spokeswoman Betsy Harden. "As a result, we have decided to close the Prescott store. This was not a decision that was made lightly and we are working closely with all affected team members to find alternative positions at other stores where possible."
At 5 p.m. Friday, Feb. 10, that closure took place.
Both the store's customers and employees were caught off guard from the decision, which was first reported Wednesday on dCourier.com and on Thursday's front page of the Courier.
"I'm surprised," said customer Kasey Vaughan, a few hours after the announcement on Wednesday. "I'm sad because I'm an organic shopper, but I'm more sad for the employees. They were, apparently, only told this morning that 'hey, by the way, you're out of a job.'"
Monelle Hanson, now former cashier manager for the location, confirmed the sudden nature of the notice.
On Tuesday, Feb. 7, all of the store's employees were told there was going to be a meeting the next day at 6 a.m. It wasn't mandatory to attend, but it was advised they do.
"I chose not to go," Hanson said. "I had a funny feeling. I just thought 'something's not right.'"
By 6:30 a.m., a co-worker texted her saying "Oh my God, we're closing our store on Friday," Hanson related.
It was a shocking development, but the signs of an imminent closure were there, Hanson said.
Business had been quickly declining and the store was making cuts in personnel and work hours.
"I feel once Whole Foods took us over three years ago, it was downhill," said Hanson, who has worked at that location for about seven years, first for New Frontiers Natural Marketplace and then Whole Foods when it took over in late 2014. "I had a lot of regular customers for years, and after Whole Foods came in, they kind of disappeared."
The hope by Hanson and many others was that Whole Foods, 1112 Iron Springs Road, would find a larger location in Prescott to move the store to, but that never materialized.
With the closure, Hanson said Whole Foods gave the approximately 60 remaining employees two options: transfer to another store or accept a severance package. With a home and child in Prescott, Hanson chose the severance. Several of her co-workers, however, chose to transfer to one of Whole Foods Market's nearest locations in Phoenix and Flagstaff, she said.
Though the store was underperforming, the liquidation sale of 50 percent discounts set off a hurricane of interest.
"It was insane," Hanson said about the clearance sale. "From what I understand, we did a month's worth of sales within the first 12 hours."
Eager customers like Anne Schwing waited about an hour in line to make a purchase.
"I just wish I had more time and money to get more right now," Schwing said after leaving the store with her discounted groceries mid-day Wednesday.
Hanson is currently figuring out her next step. With bills to pay, she hopes to get a job soon.
"I'd like to go back to my old career," Hanson said. "I did title and escrow for 20 years before the market crashed and I was laid off; so this is my second layoff."

Last year, Whole Foods said it saw potential to add more than 1,200 stores in the U.S. The company is now reevaluating that plan, saying it will see how 100 recently-opened stores perform and then move from there.
More like this story
SUBMIT FEEDBACK
Click Below to:
This Week's Circulars
To view money-saving ads...