Chili Cook-Off in Cordes Lakes won by fire department
Originally Published: February 10, 2017 5:59 a.m.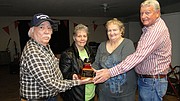 The fourth annual CLCA Cook-Off was held Saturday, Feb. 4, at the Cordes Lakes Community Center. Mayer Fire Department had their cooks out of town, as did the Sheriff's Office VIP's, so stand-ins were required. Ed Wesolowski represented the Fire Department as a Board member, with cooking help from Judy and Bill Slankard. Anne Marie McCoy did the cooking for YCSO, but Family Med had their cooks and chili on hand.

Each person got tickets for tables 1, 2, and 3 along with their ballot so they could "make their marks" as they were enjoying their three bowls of chili. The Hilltop Gang played background music and several couples decided it was good dancing music and enjoyed the floor space by the band. There was a 50/50 raffle and a raffle for a barbed wire sculpture, which was won by G.D. and Kathie Myrow.

Ballot counting started at 6:30 as it appeared no more hungry people were coming in. The count kept changing as ballots were counted, with the winner only 4 points ahead of another competitor. Final count was extremely close, but the Fire Department took home the trophy.
More like this story
SUBMIT FEEDBACK
Click Below to: