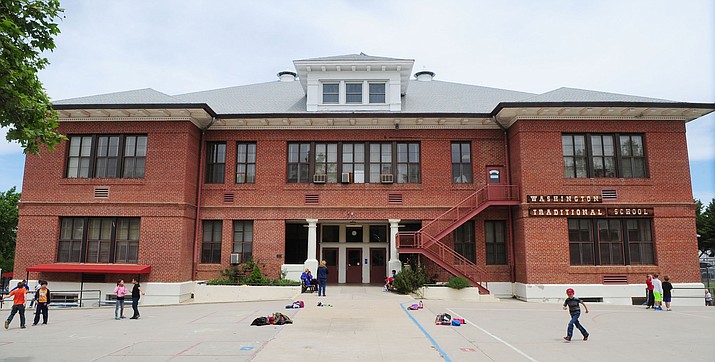 Photo by Les Stukenberg.

Originally Published: February 4, 2017 6:01 a.m.
PRESCOTT – The former Washington Traditional School off East Gurley Street is targeted to become the new home to the Prescott Unified School District offices with pending sale of its current space.
At the end of an all-day Governing Board retreat on Friday, Feb. 3, board members met with architect Michael Taylor who outlined how the historic elementary school could be retrofitted to accommodate about 25 central district offices and administrators.
The district's 90-student preschool program, Discovery Gardens, will remain with accommodations made to keep the students and office functions separated. The plan is to allow adequate space for that program to grow in the future, said district Superintendent Joe Howard.
A rough estimate of the cost for this move is about $750,000, but Howard expects that number will be reduced as plans become more detailed on exactly what must be done to accommodate the move.
Already, the renovation cost is lower based on relocating the technology department to the high school rather than renovate the Washington School basement for that purpose.
Money to pay for the renovations is to come from the sale of three other district buildings to Ironline Partners LLC of Phoenix.
To date, the former Dexter Elementary School, now home to Northpoint Expeditionary Learning Academy, sold to the developer for $1 million.
The board has arranged for the sale deal on the current district offices on Granite Street to be finalized by Feb. 20, with a closing to follow by mid-March. Negotiations are continuing on a closing date for the vacated Miller Valley Elementary School at the corner of Willow Creek and Iron Springs roads.
The board on Friday directed Howard to continue working with the developer on a timeline for the sale of that property, granting an extension based on their need to determine marketability and obtain necessary building and land-use permits. The initial sales agreement slated Feb. 6 as a closing date for all three buildings.
"I am in no means discouraged. In fact, I am encouraged," Howard said of extending the sale deadline to meet both the district and the developer's needs. "It's been a great experience on both sides … it just takes time."
Required renovations to the 30,000-square-foot Washington building – with its brick façade, wood banisters, and ornate archways – are intended to keep its character while ensuring it is adequate to accommodate the district's office needs for years to come.
Security and privacy will play into the remodel as well as changes to meet federal requirements, including handicap accessibility to the main floor.
The building will need some new bathrooms as well as updated mechanical systems. The building has an existing sprinkler system, but additional parking will eventually be required, Taylor said.
Board members were firm that they want quality work, but cannot afford to overbuild. Howard was clear he intends to be "super frugal" on producing a functional, no-frills facility.
"It has to have a little bit of class," concluded board member Maureen Erickson.