NAZ Suns snap skid, take down Warriors, 108-93
New forward Davis arrives, provides lift
By
Doug Cook
|
dougout_dc
Originally Published: February 4, 2017 11:37 p.m.
PRESCOTT VALLEY – If the Northern Arizona Suns are going to snap out of their most recent funk, they will need the leadership of their core veterans to do it.
Xavier Silas netted a team-high 22 points, Askia Booker scored 19 points and dished eight assists, Eli Millsap had 18 points, 10 rebounds, five assists and four steals, and Derek Cooke Jr. registered 13 points and 15 rebounds, as NAZ snapped a five-game losing streak with a 108-93 victory over the Santa Cruz Warriors Saturday at Prescott Valley Event Center.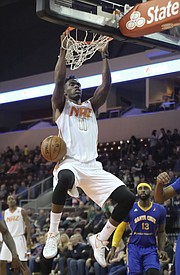 "Coach [Ty Ellis] challenged us and said we've got to play better, the vets, and that he's going to start holding us more accountable," Millsap said. "We all know that we haven't been playing well, collectively and as a collective group of veterans. Today [Saturday] there was more of a conscious effort – everybody wanted to get this win."
The Suns, who impressed in front of a season-high 2,520 fans, had not won since Jan. 14 in a 121-90 victory over the Grand Rapids Drive at home.
"We had a lot of intimate talks – a lot of talks about gettin' better and doing what we need to do for the team to win," said Silas about the veterans. "And we're finally puttin' it into work.
"There's been a lot of talk, but tonight was the first night where we really put it together."
In an NBA Development League Western Conference Pacific Division clash, 6-foot-9, 210-pound power forward Alex Davis arrived at PV Event Center for his first game in an NAZ uniform, four days after being traded from the struggling Erie BayHawks.
With forward Derrick Jones Jr. called up to the Phoenix Suns and center Johnny O'Bryant finishing his 10-day contract with the Denver Nuggets, Davis started and provided a lift of energy, ending the Warriors' four-game win streak.
Davis finished with three points, eight rebounds and two steals in 24.5 minutes.
"I'm extremely happy for J.O. [O'Bryant], but we miss him," NAZ coach Ty Ellis said. "The guys accepted the challenge and we beat a really good team."
Veteran reserve Cooke Jr. took it upon himself to step up his game, particularly on the offensive end. He finished with nine offensive rebounds, which Ellis praised.
"It's not so much I felt like I had to do it, but something I feel like my teammates have faith in me doing," Cooke Jr. said of his presence on the glass. "We have great veterans on this team, great leaders with Ski [Booker], XJ [Silas] and Eli [Millsap], and they're just always kind of keeping our momentum going, keeping our heads up."
NAZ had lost all three of its previous meetings against the Warriors this season, including 107-93 (Dec. 14), 113-89 (Dec. 16) and 115-108 (Dec. 29) setbacks.
With Saturday's win, the Suns improved their record to 13-15 overall. The Warriors dropped to 17-13. NAZ began the day 10.5 games behind the Pacific Division-leading L.A. D-Fenders. The Suns are now 5.5 back of the second-place Warriors.
"Even in our losses, our practices have been really good," Booker said. "It's just a matter of bringing what we do in practice to the game. Eli, myself and XJ, as the leaders of this team, we took it upon ourselves to make sure everybody brought that."
NEXT UP
The Suns embark on a five-game road trip, their longest of the season other than the D-League Showcase in mid-January.
The Suns will return home to Prescott Valley for their 6:30 p.m. Feb. 22 game against the Eastern Conference's Windy City Bulls.
Follow Doug Cook on Twitter @dougout_dc. Reach him at 928-445-3333 ext. 2039.
More like this story
SUBMIT FEEDBACK
Click Below to: