Senator McCain to close his Prescott office
Downtown office to close on March 31; switching to mobile office
Originally Published: February 2, 2017 6 a.m.
PRESCOTT — U.S. Sen. John McCain will shut down his Prescott office at the end of next month, his office announced in a news release on Wednesday, Feb. 1.
"The growth in population across Arizona's northern counties has made it increasingly important for my staff to meet citizens where they are by serving them in their own communities," McCain was quoted in the release. "As a result, and after careful consideration, I have decided to close my Prescott office and implement frequent mobile office hours in Prescott and elsewhere across northern Arizona in order to ensure all of these communities are fully served.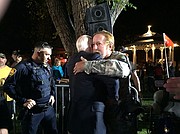 "I deeply appreciate the courtesy given to me and my staff over the years by the City of Prescott, and I look forward to continuing to provide seamless service to the greater Prescott and northern Arizona area moving forward," McCain said.
The news release states McCain's Prescott office will be closed permanently on March 31, 2017, and McCain's staff will begin offering mobile office hours throughout northern Arizona thereafter.
A staff member of the office told the Courier earlier that employees were informed by McCain's state director, Michelle Shipley, the Prescott office was closing because of "budgetary constraints."
The employee said staffers have not been shy in mentioning the fate of the office to the public. "It's only right for us to tell them, and we were not told to stay quiet," the employee said, speaking on condition of anonymity.
The office's two staff members were told Tuesday, Jan. 31, not to say anything more.
They said McCain's constituents, such as veterans, would now have to contact McCain's Phoenix or Tucson offices with their concerns.
Prescott veterans' activist Bill Springer said the closure would be "quite a loss, because we are dependent on the direct communication with his office and his people.
"Disabled veterans, such as myself, that are in service (to help) other veterans, we use his office to remedy some of our problems that we're experiencing through the Veterans Administration and other areas," he said.
"I don't think it will have much of an impact" on the Northern Arizona VA Medical Center, spokesperson Mary Dillinger said, "other than the fact that a lot of Sen. McCain's staff that reside in the Prescott office attended events that we had here at the hospital."
The news release said further information on where and when McCain's mobile office hours would be held will be posted on his website at www.mccain.senate.gov.
McCain's news release added that constituents with existing service inquiries pending his Prescott office will be transferred to his Phoenix office. McCain's staff will ensure that these citizens experience no interruption in service. His offices in Phoenix and Tucson will continue to serve Arizona residents either in person at those offices or via telephone at 602-952-2410 or 520-670-6334. Visit https://www.mccain.senate.gov/public/index.cfm/contact-form to information in writing.
More like this story
SUBMIT FEEDBACK
Click Below to:
This Week's Circulars
To view money-saving ads...