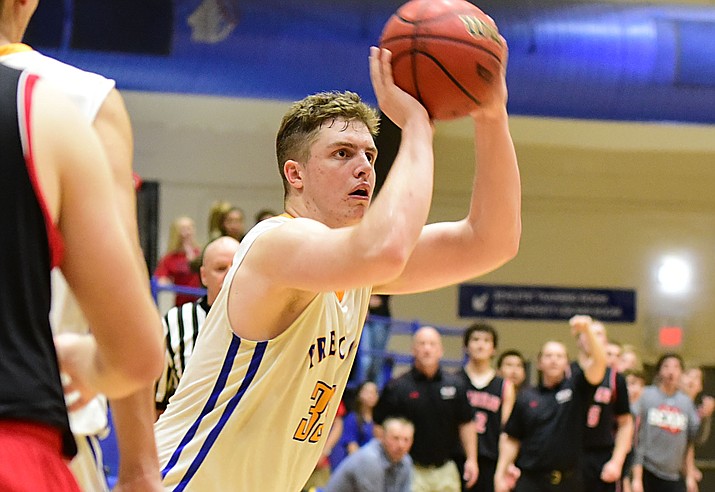 Originally Published: February 1, 2017 6:04 a.m.
Photo Gallery
PHS vs BMHS Boys Basketball 013117
PRESCOTT — In the last two meetings between the rival Bears and Badgers, Bradshaw Mountain prevailed with one-point victories, but on Tuesday night, Prescott's Kody Jones put an end to that streak.
Shortly after Timmy Young gave his Bears a 54-53 lead off a put back bucket with 7.7 seconds to play, Jones came out of a Prescott timeout with one thing on his mind: Take the shot.
And boy did he.
Catching the inbounds pass from Andrew Victor a foot off the three-point arc, Jones squared up, realized he was open and drained a 3-pointer with 2.4 seconds left to seal the deal, giving Prescott a 56-54 win.
"I was supposed to dish it to Andrew [Victor], but I had a good look and I took it," Jones said about his last-second heroics, which ended a five-game Badgers losing streak. "I was confident with it, I wanted the ball from the beginning."
A few hundred students burst out of the stands when the buzzer sounded, all wearing camouflage to signify a "bear hunt."
Prescott head coach Adam Neely was thrilled for his junior point guard.
"I know Kody has had his ups and downs all year long, but what we see is a rock-solid basketball player and I know he's capable of it," Neely said. "That's why you saw what you did in that moment. He has it in him. He's figuring it out right now."
Bradshaw Mountain head coach Matt Simpson wasn't surprised to see Young nearly give the Bears another win over their rival.
"Tim has really stepped up. He's really blossomed," Simpson said, adding games like this is why the rivalry remains intact.
"No matter how anyone is doing in any given season. No matter what their record is. You're going to get the best from both teams," Simpson said. "It's a fun atmosphere, both places. I'm thankful for these kinds of games, it keeps the rivalry going, it's fun."
Jones finished with 11 points to lead Prescott (11-11, 3-6 Grand Canyon), while Cameron Parsons and Michael Walz each had nine.
For Bradshaw Mountain (5-16, 4-7 Grand Canyon), Travis Lamb led with 13 points, while Ben Petro and Nick Othon each had 10.
Prescott led 14-6 midway through the second quarter thanks to back-to-back buckets by Parsons, but Bradshaw Mountain would respond with a 14-4 run over the final 6:15 to take a 20-18 halftime lead.
In the second half, Parsons put the Badgers up 32-26 with a 3-pointer to cap a 14-6 run with 2:47 remaining in the third quarter, but the Bears would claw back once again.
After an Ivan Vidovic 3-pointer brought the Bears within four, 50-46, Petro tied it at 52-52 with 46.2 ticks left, but Prescott would hold on for the win.
"Bradshaw played a heck of a game. We never quite got away from them. They battled back, they are a heck of a team. That's what a rivalry is going to look like," Neely said.
UP NEXT
Prescott is scheduled to travel north to Flagstaff tonight and play Grand Canyon region rival Coconino at 7 p.m.
The Badgers sit at No. 26 in the 4A power point rankings, making it likely they'll need to win their remaining three games to have a shot at state.
Only one team wins the automatic bid out of the Grand Canyon region tournament, which is slated to begin Monday next week.
Brian M. Bergner Jr. is an associate sports editor for The Daily Courier. Follow him on Twitter, Instagram, Periscope and SoundCloud at @SportsWriter52, or on Facebook at @SportsAboveTheFold. Reach him by phone at 928-445-3333, ext. 1106.