Realtors forecasting slower growth in home prices for 2018
Lack of inventory continues to plague market

By
Max Efrein
|
mefrein
Originally Published: December 31, 2017 6:02 a.m.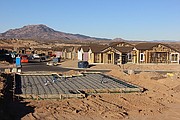 Forecasts for the 2018 real estate market are indicating slower growth in home prices nationwide and a continued shortage of available homes as developers and home builders are now working to catch up with spiking demand after years of housing stagnation.
Overall, 2017 was a strong year for home prices. Nationwide they were up 6.2 percent in October from the previous year, according to recently released data from the S&P CoreLogic Case-Shiller National Home Price Index. The increase in home values has been accelerating for 16 consecutive months.
However, the National Association of Realtors (NAR) is anticipating home prices to appreciate only 1 to 3 percent in 2018. This estimate has much to do with the tax reform legislation recently passed by Congress, which significantly reduced the tax incentives previously available for homeowners.
For instance, one of the major changes was to nearly double the standard tax deduction to $12,000 for single individuals and $24,000 for joint returns. Coupled with other changes, such as the repeal of personal exemptions and the new $10,000 deduction cap for the total of state and local property taxes and income or sales tax, this standard deduction will outpace itemizing for most Americans.
"Congressional estimates indicate that only 5 to 8 percent of filers will now be eligible to claim these deductions by itemizing, meaning there will be no tax differential between renting and owning for more than 90 percent of taxpayers," the NAR website states.
LIMITED SUPPLY
Even so, home values will moderately appreciate due to limited supply.
"The thing that affects home ownership right now is the lack of inventory," said Juliana Malouff-McCroskey, Realtor and associate broker with BloomTree Realty in Prescott.
"That's been an ongoing problem this whole year and that's going to continue on next year."
This is essentially because Arizona's population growth continues to outpace most other states; the Prescott area in particular remains a highly attractive location to live and retire in; and developers and home builders are trying to make up ground lost during the recession years.
Speaking as a contractor, Mike Fann, president of Fann Contracting, remembers well the recession and the lack of work that came with it.
"For a number of years there, we had no private work whatsoever," Fann said. "All of our work was public works contracting."
He understood why this was the case given how badly builders were burned in those years.

"It makes sense that the builders and the development community were hesitant to do anything until there was any demand at all," Fann said.
Just to keep his people working during those tough times, Fann started his one and only development, Granite Dells Estates, which is pretty much the only new housing development coming to some level of fruition at the moment.
The others, including Jasper and Deep Well Ranch, started only in the past couple of years; and as is well known, large scale projects take a long time before producing finished products — by one estimate reported by the Courier, it is believed that Deep Well Ranch won't reach buildout of its proposed 10,000 homes for 35 years or more.
More like this story
SUBMIT FEEDBACK
Click Below to: