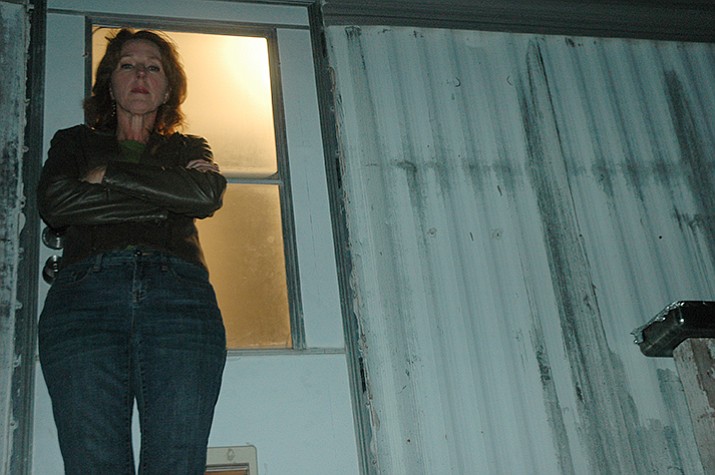 Originally Published: December 30, 2017 6:01 a.m.
Susanne Nardozzi, wanting to live in Chino Valley's Mountain View Mobile Home Park in "peace and quiet," is facing eviction on Jan. 2 after wrangling with the landlord and management.
She is not alone. Another resident said he has problems with the manager of the trailer park, and Nardozzi has filed a complaint with the state Attorney General's Office. Her eviction notice came a day after she filed the complaint. The attorneys representing the park say they have cause and have followed proper procedures in pursuing the eviction.
Nardozzi says she lives in constant intimidation and fear. She moved into the mobile home park in June with a leased option to buy the trailer and soon after, her mother and son moved here from Las Vegas. She told the mobile home park manager, Mike Friend, that they'd be staying for a couple weeks.
"We asked to put my son and my mother on the lease because they were going to be staying there. They were aware that this was going to be something," she said. "He knew this was a change in circumstances."
Compost & Additions
The problems started in October, Nardozzi said. That was when she was given a one-time courtesy notice on Friday, Oct. 20, stating she was in violation of a Chino Valley ordinance that says compost piles or containers are not allowed within mobile home or RV parks.
In the Chino Valley Unified Development Ordinance (UDO), section 3.14 lists what's allowed in a mobile home park, said Chino Valley Code Compliance Officer David Jaime. It's more of a guideline that lists what can and cannot be done within the park, such as permitted and conditional uses and property development standards.
"There's nothing in the property code that says you cannot have a compost pile," he said.
The mobile home park's Declaration of Covenants, Conditions & Restrictions (CC&Rs) do override town code, he added.
Other items on the courtesy notice included such issues as not storing appliances or household furniture outside, not air-drying clothes outside, keeping pets on a leash and outside of other tenants' spaces or lot, and removing a tent on the side of the mobile home.
The tent was a greenhouse, which her daughter used to help with her anxiety and the compost pile was a part of it, Nardozzi said.
Nardozzi said she spoke with Friend on Oct. 21, introducing him to the contractor who was going to enclose the carport to make extra living space. She said she spoke with him numerous times on the matter and was told it was alright for her to go ahead. Nardozzi said she also continued to ask Friend about putting her mother on the lease and asked him numerous times about putting up fencing.
Regarding the fencing, Friend either kept telling her to give him more time or go to the town for permission, while town officials said fencing didn't have anything to do with them, she said.
While it depends on what kind of fence is erected, a building permit is not generally needed to put fencing up, said Chino Valley Chief Building Official Dan Trout.
When approached by The Daily Courier, Friend declined to comment for this story.
Notices & dogs
Nardozzi said things have gone downhill from there. She received a Nov. 4 notice that her son's dog and daughter's therapy dog were "involved in a vicious, unprovoked attack."
"My daughter was there the entire time this happened. It wouldn't have happened if I had been able to put up a fence like I'd asked him numerous times," she said. "Animal Control didn't come, the police didn't come. Our neighbors across the street witnessed it and said it was just dogs being dogs."
She has been trying to get a copy of her rental agreement, the CC&Rs, a payout, as well as for them to arbitrate or talk to her daughter and others and find out what happened with the dogs, she said.
Afterward, Nardozzi said she received a Nov. 13 letter, from Tamara Zavaliyenko, who along with Leonard Zavaliyenko are the attorneys in California who represent Mountain View Mobile Home Park's corporate office.
The letter states that Nardozzi is in violation of her rental agreement for such reasons as having at least two additional adults residing in the mobile home who have not been approved by management, that she has been reminded of this and has failed to submit documentation for those guests, that the larger dog has not been approved and will not be approved as it has "exhibited dangerous behavior by attacking other residents and their pets," and that she has created additional living space without obtaining written approval from management or the required permits from the Town of Chino Valley.
According to the letter, Nardozzi's violation of her rental agreement means her right to purchase the mobile home was immediately terminated and she has the option to either pay the fees and penalties due to Mountain View — including guest and unauthorized pet fees, totaling $3,300, remove the larger dog, and submit to management for review rental applications for individuals residing in the mobile home not on the rental agreement and provide permits for the alterations — or terminate the rental agreement, vacate the mobile home and not be held responsible for the aforementioned payments.
"They're telling me I materially violated my rental agreement, but they won't give me my rental agreement," Nardozzi said. She received a copy of the rental agreement on Thursday, Dec. 21.
It would be her responsibility to see that the owners of the mobile home park got the necessary building permits for the addition, Trout said. "As a tenant, she couldn't necessarily permit something and do an addition to a home. She would need permission though from them and they would be the applicant," he said. "But a permit is required for that type of work."
After this, speaking with the agent above Friend, Nardozzi was told she was being charged to rent — instead of the option to buy — to live in the trailer on the property and asked for clarification. Nardozzi said she, her son and a neighbor went into the office and when she asked for paperwork, they refused to give it to her unless she spoke with the owner of the park on Friend's phone. She refused and said the owner can put whatever he wants to say in writing.
Eviction
On Wednesday, Dec. 6, Nardozzi was given a five-day notice to pay or quit. Nardozzi said she contacted the Attorney General's Office and filed a complaint. Mia Garcia, director of media relations, said she was unable to comment as all complaints are confidential.
Nardozzi wrote in a later email that on Tuesday, Dec. 19, she spoke with someone at the Attorney General's Office who confirmed someone contacted Mountain View. On Wednesday, Dec. 20, Nardozzi said the eviction notice was filed and she had until Tuesday, Dec. 26, to vacate. The eviction was filed after the Attorney General's Office contacted the park, she said. Since then the eviction has been pushed until Tuesday, Jan. 2.
Nardozzi said she's been trying with Zavaliyenko to come to a resolution. She told her that if she's allowed to stay until January, she'll waive the $2,600 she's paid toward purchasing the trailer and she'd walk away if they waive the $3,300, adding that she was sent a notice stating she can't slander the park, have third-party contact and can't say she's under duress.
"I am under duress. I'm under extreme duress," she said. "I want to live there in peace and quiet."
Nardozzi also said she sent in the check for her December rent and management refuses to cash it.
Leonard counters that they never received a check from her for December's rent: "Her rent check did not come in. There's no landlord in the world that wouldn't deposit a rent check."

Nardozzi is being evicted only because of failure to pay rent, Zavaliyenko said, adding that all of her stories and allegations are made up. She's blowing everything out of proportion, he said.
Nardozzi counters that she has video of herself putting the check in the mail slot and has pictures to accompany the video.
Nardozzi isn't the only person who has had problems with Mountain View's management. Resident Gary Ray said he and his dogs have lived there for six years. There weren't any problems until two years ago when Friend became the manager, he said.
More like this story