CFB Bowl Roundup: No. 9 Penn State tops No. 12 Washington 35-28 in Fiesta Bowl
Originally Published: December 30, 2017 10:43 p.m.
GLENDALE — Converting on third downs had been a sore spot at Penn State, so coach James Franklin made it a point of emphasis in spring ball and fall camp.
The Nittany Lions kept working at it during the season and kept getting better, peaking at the perfect time.
Trace McSorley threw for 342 yards and had both of his touchdown passes to DaeSean Hamilton on third-down plays, helping No. 9 Penn State outlast No. 12 Washington 35-28 in the Fiesta Bowl on Saturday.
"Our coaches did a fantastic job and the O line protected and the receivers made plays," Franklin said. "We were very efficient. We executed."
Penn State (11-2), No. 9 in the final College Football Rankings, had its way with Washington's vaunted defense early, building a 28-7 lead by the second quarter. Washington (10-3) woke up from an offensive slumber with two touchdowns and pulled to 35-28 on Myles Gaskins' 69-yard touchdown run in the fourth quarter.
The Huskies' inability to stop Penn State on third down kept them from getting any closer.
The Nittany Lions converted three third-down attempts on a final clock-winding drive and were 13 for 17 overall. Washington had a final shot with a desperation play of multiple laterals and passes, but Dante Pettis' final lateral was intercepted after he passed up a chance to step out of bounds to set up one more play.
"I think a lot of it was McSorley," Washington coach Chris Petersen said. "He's buying time, getting out of there. And when we did get a little pressure on him, he stepped up nicely and took off and ran or bought time."
Washington had the nation's top run defense during the regular season, allowing 92 yards per game, but Saquon Barkley matched that on one run in the second quarter. Barkley had 137 of the Nittany Lions' 203 yards rushing and two touchdowns in what could be his final game if he decides to turn pro.
The Huskies, No. 11 CFP, gave up a season-high 545 total yards.
"They had us on our heels most of the night," Petersen said.
The Nittany Lions lost a chance at the CFP with consecutive losses to Ohio State and No. 24 Michigan State, but ended up in a familiar place: The Fiesta Bowl, where they had not lost in six previous trips.
Penn State raced toward No. 7 by going to the air early against the run-stingy Huskies.
McSorley picked Washington's secondary apart, hitting nine receivers for 219 yards in the first half. He connected with DaeSean Hamilton on a 48-yard touchdown pass on the opening drive, and set up scoring runs of 2 yards by Barkley and 1 yard by Miles Sanders.
Barkley then did it all himself, bursting through the left side for a 92-yard touchdown run to put Penn State up 28-7.
The Nittany Lions had 367 yards by halftime against a defense that allowed 277.4 yards per game during the regular season.
"We came out flat in the first half," Washington linebacker Tevis Bartlett said.
Washington was in the Fiesta Bowl for the first time, but Petersen had made a name for himself by trick-playing Boise State to a pair of Fiesta victories.
Iowa State edges No. 19 Memphis 21-20 in Liberty Bowl
MEMPHIS, Tenn. — Iowa State proved its season-long bid to raise its standards was more than just a slogan.
Allen Lazard tied a Liberty Bowl record with 10 catches and put Iowa State ahead with a remarkable 5-yard touchdown reception in the third quarter Saturday, and the Cyclones beat No. 19 Memphis 21-20 on the Tigers' home field.
The victory gave Iowa State (8-5) its first bowl victory since a 2009 Insight Bowl triumph and marked the Cyclones' third win over a Top 25 team this season. That's the step forward Iowa State had in mind when it made "Raise The Standard" its team motto.
"The thing that finally resonates in our program is that this can happen, not only with our players but the people outside of our program, that success and winning football games at Ames, Iowa, can really happen," Iowa State coach Matt Campbell said.
Iowa State's progress was evident in the way it held on to win after its only lost fumble of the season. Iowa State was attempting to become the first Football Bowl Subdivision team to go an entire season without losing a fumble.
The Cyclones led 21-20 and had third-and-goal from the 1 when David Montgomery fumbled as he was crossing the goal line.
As replay officials reviewed the play, Campbell told his players he hoped the call wasn't overturned because it would enable the Cyclones to show how they'd matured since a heartbreaking 20-19 loss to Kansas State in their regular-season finale.
"Coach was out there preaching to us in the defensive huddle this is what we wanted, to show people that we'd learned from what we'd been through," Iowa State linebacker Joel Lanning said.
Memphis had the benefit of playing a bowl game on its home field — where it hadn't lost all season — although enough Iowa State fans traveled to the game to make the sellout crowd of 57,266 a pretty even split.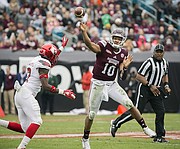 Thompson carries Miss State to 31-27 victory in TaxSlayer
JACKSONVILLE, Fla. — It likely was Lamar Jackson's farewell performance.
It definitely was Keytaon Thompson's coming-out party.
Thompson, a highly touted freshman making his first start in place of injured quarterback Nick Fitzgerald, ran for 147 yards and three touchdowns to help No. 24 Mississippi State beat Jackson and Louisville 31-27 in the TaxSlayer Bowl on Saturday.
"He was phenomenal," Bulldogs interim coach Greg Knox said.
Thompson completed 11 of 20 passes for 127 yards, with an interception. He was more effective as a runner, carrying on 27 of the team's 55 running plays.
"We knew that's what he did best," Knox said. "If you go back and look at Mississippi State over the year, when Nick Fitzgerald ran the ball for a hundred yards, we were winning games. So we knew he had to run the ball today.
"We didn't care if he was a freshman. We didn't care if he was starting his first game. We knew we could scheme some things up for him to run the ball, and he could have success."
Thompson scored twice in the fourth quarter, including a 1-yard plunge with 3:39 remaining that put the Bulldogs (9-4) ahead for good.
Jackson had the Cardinals (8-5) on the move late, but safety Mark McLaurin intercepted his third pass of the game. Jackson got another chance in the waning seconds following a failed, fourth-down conversation. But his desperation heave was batted away in the end zone.
That set off a wild and tearful celebration for Mississippi State, which stuck together despite losing coach Dan Mullen and a number of assistants to Florida. Knox got doused on the sideline. Players ripped off jerseys in 50-degree temperatures and danced in the end zone.
"The last three, four weeks we've been together, it's been a tough time for everyone," Knox said. "A lot of emotions. ... I think that's what you saw on the field. It was a chance for everyone to just breathe a sigh of relief and say, 'Thank you God for this win.'"
Jackson, the 2016 Heisman Trophy winner, had different emotions after probably ending his college career with a loss. Jackson has yet to declare for the NFL draft, but most outsiders believe the dynamic junior will turn pro.
"I got to sit down with my coach and my family," he said.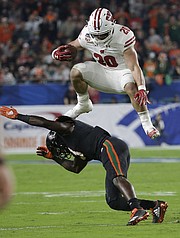 Hornibrook's 4 TDs carry Badgers over Miami, 34-24 in Orange
MIAMI GARDENS, Fla. — Alex Hornibrook threw four touchdown passes, three of them to Danny Davis, and No. 6 Wisconsin capped off the winningest season in school history by topping No. 11 Miami 34-24 in the Orange Bowl on Saturday night.
Jonathan Taylor capped his record-setting freshman season with 130 rushing yards on 26 carries for the Badgers (13-1), who rallied from an early 14-3 deficit. Taylor finished the year with an FBS-freshman-record 1,977 yards.
A.J. Taylor also had a scoring catch for Wisconsin — one where he mimicked ripping Miami's "Turnover Chain" off the neck of teammate Kendric Pryor.
The Badgers dominated time of possession, holding the ball for nearly 40 minutes. Hornibrook completed 23 of 34 passes for 258 yards, going 20 for 25 in the final three quarters.
Travis Homer and Deejay Dallas had rushing scores for Miami (10-3), which was in the Orange Bowl for the 10th time and lost on its home field for the first time in 2017. Lawrence Cager had a touchdown catch for the Hurricanes, while quarterback Malik Rosier was 11 for 26 passing for 203 yards — with three interceptions.
The Hurricanes had a chance to get within a touchdown midway through the fourth, but Michael Badgley's chip-shot field goal went off the right upright. By the time Miami got the ball back, most of their fans were gone and only 1:37 remained. Rosier was picked off for the third time 18 seconds later, and the Badgers ran out the clock.
The Big Ten is 7-0 in bowls this season.
Homer went in from 5 yards out to give Miami the early lead, and Dallas' 39-yard scamper for a score out of the wildcat formation pushed the Hurricanes' edge to 14-3 late in the first quarter.
Miami was rolling.
It was temporary.
Rosier's pass was intercepted by Wisconsin's Andrew Van Ginkel on the first play of the second quarter, and the game quickly changed. Hornibrook threw touchdown passes on three consecutive possessions — two to Davis, one to A.J. Taylor — and the Badgers held the ball for more than 11 minutes in that quarter alone on the way to taking a 24-14 lead into the half.
Miami coach Mark Richt was flagged for unsportsmanlike conduct just before the third of those scores, after losing his cool while arguing with officials about what replays showed was a missed holding call that would have pushed Wisconsin back. He grabbed at head linesman Gus Morris — part of the SEC crew on the game — while pleading his case, as Miami security personnel unsuccessfully tried to keep him calm.
The Hurricanes got within three points twice in the second half, the first coming when Rosier bought some time and lobbed the ball to a wide-open Cager for a 38-yard score. Rosier tried to connect with Cager again later in the third, but got intercepted again on a play where the Hurricanes thought Cager got held as he neared the end zone.
Hornibrook and Davis connected on a scoring play for the third time with 7:44 left, and the Badgers weren't threatened again.
More like this story
SUBMIT FEEDBACK
Click Below to:
This Week's Circulars
To view money-saving ads...