Arizona in Brief: Man arrested in Phoenix killings of estranged wife, 2 kids
Originally Published: December 27, 2017 5:50 a.m.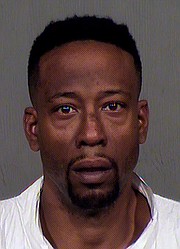 Man arrested in Phoenix killings of estranged wife, 2 kids
PHOENIX (AP) — A man is accused of shooting and killing his estranged wife and their two children at a Phoenix apartment complex before getting into a Christmas Day shootout with officers, authorities said Tuesday.
Police responded Monday afternoon to a report of gunfire and found a woman dead in the parking lot. Officers later found the bodies of a 10-month-old girl and an 11-year-old boy inside the apartment.
Police tried to talk to Anthony Ross, 45, who barricaded himself inside the unit where he used to live, Sgt. Jonathan Howard said. Several hours later, he indicated he had killed the two children and began shooting at officers, authorities said. After a brief gunbattle, he was taken into custody.
Ross, who was visiting Phoenix for the holidays, was not hurt, Howard said. One officer was injured by shrapnel and taken to the hospital in stable condition.
Authorities have not released a motive or the names of the woman and children. Police were investigating the shooting that they described as a domestic violence incident.
It was not clear if Ross had a lawyer who could speak on his behalf.
Authorities: 7 hurt in rollover on Arizona interstate
SUNSET POINT (AP) — Authorities say seven people were hurt when the vehicle they were traveling in rolled over on an Arizona highway, causing a backup that stretched for several miles.
Transportation officials say the northbound lanes of Interstate 17 near Sunset Point were temporarily closed as medical helicopters transported at least three patients from the scene of the wreck.
The Daisy Mountain Fire Department tells Phoenix television station KTVK that three of those who were hurt were children. No other details were available.
The lanes were eventually reopened Monday afternoon when the crash was cleared, and transportation officials were asking drivers to be patient as they made their way through the area.
US border agents arrest woman for human smuggling
AMADO (AP) — A Tempe woman has been arrested at an immigration checkpoint in southern Arizona after authorities found three people hidden in the trunk of her car.
Authorities say the woman's vehicle was flagged for a secondary inspection after she was stopped at the checkpoint along Interstate 19 on Saturday afternoon.
The search resulted in two men and a woman being found in the trunk. They ranged in age from 18 to 33 and were from Mexico and Guatemala.
Agents also found a loaded handgun in the vehicle.
The gun and the vehicle were seized, and the woman is facing human smuggling charges. The people found the trunk were processed for immigration violations.
Tribe plans to open zip lines at west rim of Grand Canyon
PEACH SPRINGS (AP) — The Hualapai (WAHL'-uh-peye) Tribe is expanding tourist offerings at the west rim of the Grand Canyon.
More than 1 million people a year visit Grand Canyon West, outside the boundaries of the national park. It's best known for the Skywalk, a horseshoe-shaped glass bridge that juts out 70 feet from the canyon wall and gives visitors a view of the Colorado River 4,000 feet below.
The tribal corporation that runs it recently opened a restaurant in a connected visitor center that had been the subject of a bitter dispute between a late Las Vegas businessman and the tribe.
In January, the corporation plans to open a pair of zip lines that will send guests nearly 1,000 feet above a side canyon. Each zip line will carry four people.
Vehicle crashes after fleeing Arizona border checkpoint
GREEN VALLEY (AP) — Federal authorities say three people were injured when the vehicle they were in fled an immigration checkpoint in southern Arizona.
The incident happened Sunday night along Interstate 19 near Green Valley. Authorities say U.S. Border Patrol agents, with the help of state troopers, followed the vehicle northbound until it crashed.
The vehicle rolled and temporarily blocked northbound traffic on the interstate.
The driver of the vehicle and two passengers were transported to a hospital, and authorities say the driver is now in custody. No other details were immediately released.
Authorities said the investigation was ongoing.
More like this story
SUBMIT FEEDBACK
Click Below to:
This Week's Circulars
To view money-saving ads...