Sleighbells ring: Bearizona welcomes new reindeer
Wendy Howell, Williams News
Originally Published: December 21, 2017 6:01 a.m.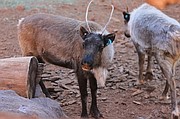 "When out on the lawn there arose such a clatter, I sprang from the bed to see what was the matter. Away to the window I flew like a flash, tore open the shutters and threw up the sash."
This line from the Clement Clarke Moore poem 'Twas the night before Christmas' reveals the magic of reindeer pulling Santa's sleigh to deliver packages all over the world every Christmas
With an uncomplicated story, the poem lends itself to creative variations and lets its readers indulge in the exciting belief that there is a Santa Claus and appreciate the anticipation felt on Christmas Eve.
The poem is a mix of European legends, Norse mythology and aspects of the story of the Christian Saint Nicholas, considered the precursor of Santa Claus, and the Dutch feast of Sinterklaass. The poem was instantly loved in America and remains so today.
People's love of reindeer and the enduring story of them pulling Santa's sleigh at Christmas recently led Bearizona to bring the beloved animals to their wildlife park.
In October, Bearizona's expanded their animal family by welcoming five new reindeer additions — Shandy, Stella, Bud, Porter and Amber — to the park. The animals are just seven months old but are already acclimating to their new home in the cool ponderosa pines.
Bearizona wildlife biologist Dave O'Connell said the staff are excited for the new additions and have been working hard to help them adjust to the new climate and personnel at the park.
"We weren't expecting them to be as cool as they are," O'Connell said.
The reindeer were raised in Washington and are the first reindeer to arrive at Bearizona. They are joining the park's only other Cervidae (deer) family of mammals — the Rocky Mountain elk and the mule deer.
"This is the perfect animal for us," O'Connell said. "They are big, impressive animals."
Although reindeer and caribou are the same animal, some classify reindeer as domestic and caribou as wild. Reindeer often are shorter, stouter and more sedentary than their long-legged caribou cousins. Some reindeer migrate for short distances, but caribou are known to travel great distances between wintering grounds and calving areas.
"I don't know exactly where their lineage is from, so we're kind of waiting to see," O'Connell said. "They are still so young."
O'Connell said the reindeer have unique features that are intriguing to the staff and visitors. Their large hooves have four toes on each foot. The toes spread out wide to act like snowshoes — distributing the animal's weight so that it can float over snow and soft ice without sinking in. The sharp-edged hooves also break through snow and ice when caribou dig for food.
"Reindeer feet are huge ,which helps them on the tundra and snow," he said.
O'Connell said reindeer are the only Cervids where both the males and females grow antlers. He said the males grow their antlers early in the year, which allows them to be full-size for the rut. Females grow their antlers later in the year and use their antlers to defend food in small patches of cleared snow. Females retain their antlers until spring because access to food is critical during their winter pregnancy.
Some scientists therefore argue that Rudolph, who is universally depicted in late December with intact antlers, is female.
O'Connell said the addition of the reindeer are compatible with Bearizona's mission to introduce North American animals to their visitors.
"We want to have a good variety of everything," O'Connell said. "When people come here want them to be able to see as much as they can see from North America."
Three of the reindeer are already at their new home between the walk-through and drive-through area of the park. The reindeer have a large open are afor roaming and will have a barn they can go to for shelter.
"We're focused on learning about the reindeer, learning their personalities — what things they like and what things they don't like," O'Connell said. "That's the great thing about Bearizona — we're given the ability to take our time."
O'Connell said the goal of the park is to never push an animal to adapt to a new situation.
"It's all about the animal," he said. "We let them learn us, get them used to their new barn, their new habitat. If they are comfortable that's a good thing, but if they are nervous or showing signs of stress, we don't want to push that on them."
According to O'Connell, visitors seem especially excited to make their way to the park to visit the reindeer this Christmas.
Bearizona is located at 1500 E. Route 66 in Williams, Arizona and is open daily during the winter from 9 a.m. to 4 p.m. The park has a special Wild Wonderland program Dec. 15-30 from 5:30 p.m. to 7:30 p.m. Bearizona is closed Christmas Eve and Christmas Day.
More like this story
SUBMIT FEEDBACK
Click Below to: