Last chance for Christmas events

Originally Published: December 21, 2017 10:14 p.m.
Christmas is only three days away, and New Year's Eve is close behind. There are not very many more chances to check out the Christmas attractions in and around Prescott.
Valley of Lights
Located at Fain Park, 2200 N. Fifth St., in Prescott Valley and open through Sunday, Dec. 31, the one-mile drive is free and open to the public from 6 to 10 p.m. each night.
According to a prior article by Prescott Newspapers, Christmas Eve attracts more than 1,000 cars and this year there are 58 lighted displays – all of the favorites and one more than last year, Prescott Valley Chamber of Commerce CEO Marnie Uhl said.
Downtown Prescott
The courthouse continues to be lit up for the Christmas season, with somewhere between 400,000 and 500,000 lights around courthouse plaza, said Prescott Downtown Partnership Executive Director Kendall Jaspers.
A big effort for a small town, it took a village of volunteers to prepare for getting the courthouse all lit up, Jaspers said. However, the payoff is good though. One Christmas night, he and his wife went out and saw hundreds of people walking around courthouse plaza with groups of people singing carols, little kids and people taking pictures, he said.
"To see how much that meant, to see how much use it got and how much appreciation," Jaspers said. "That's where you get paid."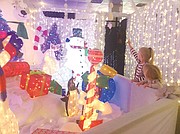 Enchanted Christmas Tour of Lights
Featured in this past week's Kudos, the Enchanted Christmas Tour of Lights is located at Gateway Mall in Marc Your Treasures, 3250 Gateway Blvd., Suite 302. The fourth year for the attraction, it has grown each year and this year there are rooms lit up in all sorts of scenes, such as Beauty and the Beast, Thumb Butte, Frozen, and Rudolph the Red Nosed Reindeer. With Prescott being "Arizona's Christmas City," it is great seeing the community see what M&M Entertainment & Productions founders Matt Brassard and Marco Espitia have put together.
"It's worth it to see people just enjoy themselves," Espitia said. "That's what Christmas is all about, just fun."
Open through Saturday, Dec. 30, hours are 2 to 8 p.m. Tuesday through Thursday, noon to 9 p.m. Friday and Saturday, and noon to 6 p.m. Sunday. Admission is $5 for adults, $4 with a toy or canned good for donation, and free for children younger than 5.
Gingerbread Village
Located within the lobby of the Prescott Resort and Conference Center, 1500 Highway 69, there are more than 70 entries and more than 100 houses in this annual display. A fundraiser for Yavapai Big Brothers Big Sisters, it's the "World's Largest Gingerbread Village."

Open through Sunday, Dec. 31, there is no charge to see the village.
Wild Lights and Animal Sights
Open to the public from 6 to 8:30 p.m. Fridays and Saturdays, Dec. 22-23 and Dec. 29-30, the Heritage Park & Zoological Sanctuary is decked out for the holidays. Everything is decorated around the zoo, said Media & Marketing Coordinator Lorette Brashear.
"Every tree is pretty much lit up, everything in the main pathway is all decorated," she said. "We have cute little scenes where if you look up on trees, you might see an owl that's lit up. It's kind of like a seek and find."
Admission is $4 for members and $6 for nonmembers. The Heritage Park Zoological Sanctuary is located at 1403 Heritage Park Road.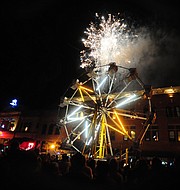 Boot Drop
Even after Christmas is all said and done, there's one more event of the year and that's the New Year's Eve Boot Drop.
On Sunday, Dec. 31, a six-foot illuminated cowboy boot will be slowly lowered from the 40-foot flagpole located on the roof of The Palace and Jersey Lilly saloons. Held at Whiskey Row in downtown Prescott, this will be the seventh annual boot drop.
Two drops will happen – at 10 p.m. and at midnight – with fireworks. Event vendors, a Ferris Wheel, entertainment and giveaways will take place from 8 to midnight.
More like this story
SUBMIT FEEDBACK
Click Below to:
This Week's Circulars
To view money-saving ads...