Everybody loves a parade ... and cookies with Santa
Pat Williamson
Originally Published: December 20, 2017 5:58 a.m.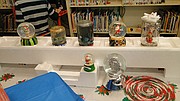 The children were all ready when Santa walked in the door and he was bombarded with hugs and questions Saturday, Dec. 16. He took the time to answer each child before strolling to his chair where they could formally take their turn to sit on his lap and tell him what they wanted for Christmas.

The youngest was Maverick Hemmah, whose birthday will be the 24th. He was quite happy to check out Santa even though he couldn't tell him what he wanted for Christmas.
Several trays of cookies were made and decorated by the ladies of Spring Ridge Academy, who also helped out with the crafts and gifts. They also boarded a float for the Light Parade when the sun went down.
At six sharp the Volunteers in Protection blocked Stagecoach while another of their vehicles led the parade. Jim Budd wasn't quite according to regulation, but certainly provided the Christmas spirit as he donned his Santa hat. There were musical floats, decked out vehicles, and sparkling lights everywhere. First place went to Carol Peck with her float full of children and lights.
Tom Thurman, county supervisor, also presented the House Decorating Contest winners, and if you drive around the area, you will see that picking a winner was a very difficult task.
So take a drive around your neighborhood and view the splendor created by your neighbors for this holiday season in Cordes Lakes.
More like this story
SUBMIT FEEDBACK
Click Below to: