Arizona's national monuments spared, for now
Not everyone is pleased with Zinke/Trump decisions
Originally Published: December 19, 2017 6:02 a.m.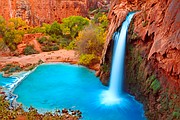 Four national monuments in Arizona under review for elimination or boundary changes by Secretary of the Interior Ryan Zinke did not make the recommended list to President Donald Trump. They are safe for now.
Trump asked Zinke to review all land 100,000 acres or larger that have been designated a national monument since 1996, and those designated "without adequate public consultation." Zinke's Department of the Interior Final Report was released Dec. 5.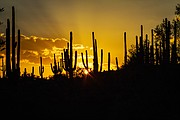 Escaping any modifications, the four national monuments in Arizona up for review will remain as they are for now. They are the Grand Canyon-Parashant, Ironwood Forest, Vermilion Cliffs, and Sonoran Desert national monuments. All are managed by the Bureau of Land Management. None are in Yavapai County.
Trump did, however, change boundaries and management at four monuments in other states earlier this month: Bears Ears and Grand Staircase in Utah, Cascade-Siskiyou in Oregon, and Gold Butte in Nevada. Trump's actions decreased the size of Bears Ears NM by nearly 85 percent and Grand Staircase-Escalante NM by about 45 percent.
Rallies opposing Trump's action took place across the country, including the Prescott area where about 100 people showed up on Saturday, Dec. 9, to make their feelings known. Participants included members from the Sierra Club, Prescott Indivisible Environmental Team, Interfaith Power and Light, Great Old Broads for Wilderness and the Center for Biological Diversity.
The day following Trump's decision, several Native American tribes (Hopi, Zuni, Ute Indian tribes, and Navajo Nation) filed suit alleging violation of the Constitution and the Antiquities Act of 1906 regarding Bears Ears.
Zinke recommends prioritizing public access for what remains of Bears Ears NM. "The management plan should be developed to continue to protect objects and prioritize public access; infrastructure upgrades, repair, and maintenance; traditional use; tribal cultural use; and hunting and fishing rights," the report states.
Without identifying who the stakeholders are, the report continued, "The DOI heard from many stakeholders that its management plans associated with monuments are restrictive and difficult to navigate."
He recommended that Trump ask Congress to legislate tribal co-management authority and to examine more appropriate public land-use designations. "Further, as discussed above, a number of current national monuments were created with inadequate consultation with the state, local, and tribal governments and communities most affected. This has resulted, in many cases, in national monuments that restrict the use of far too much land."
The Center for Western Priorities, a watchdog group focused on national parks, monuments, public lands, and energy in the American West, posted an article outlining errors and misleading statements in Zinke's report. Included is this claim about the Rio Grande del Norte National Monument in New Mexico:
"CLAIM: 'I [Zinke] heard from local stakeholders that a lack of access to roads due to monument restrictions has left many grazing permittees choosing not to renew permits.' (page 17).
"VERDICT: False. The Albuquerque Journal looked into this claim and reported, 'Ranchers who oppose the monument designation can't cite any roads that have been shut down in the expansive national monument.' The Northern New Mexico Stockmen's Association, which opposes the monument, said it 'had heard' of ranchers not renewing grazing permits, but has not provided any evidence of a single rancher not renewing, much less 'many grazing permittees' as the Zinke report claims."
The four Arizona monuments considered for action escaped Zinke's recommendations, but that does not mean they are safe, said Joe Trudeau, Southwest advocate for Center for Biological Diversity in Prescott.
"Arizona's national monuments may have been spared during this latest illegal action by President Trump and Interior Secretary Zinke, but it was a close call – and we're not out of the woods yet," Trudeau said.
He pointed out that Arizona Representatives Andy Biggs, Trent Franks and Paul Gosar signed a letter of support in June to President Trump that requested total rescission of the four Arizona monuments and many more under consideration.
Sierra Club Yavapai Group Chair Gary Beverly said, "Rep. Paul Gosar has repeatedly attacked public lands and national monuments in his district and throughout the Southwest." He adds, as an explanation for Gosar's actions, that Gosar has accepted more than $250,000 in campaign contributions from the energy and natural resources industry – namely oil, gas, mining and timber, since 2011.
The DOI received more than 2.8 million public comments during the 60-day comment period. More than 98 percent of all comments received expressed support for maintaining or expanding national monuments. Of the 850,000 comments the Department of Commerce and the DOI on marine national monuments, 99 percent supported their continued protection, Trudeau said.
More like this story
SUBMIT FEEDBACK
Click Below to: