Prescott Valley man arrested and charged with theft of fenders and other items
Originally Published: December 17, 2017 6:01 a.m.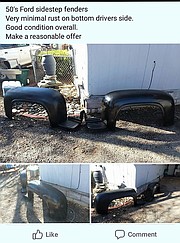 DEWEY — A Yavapai County Sheriff's Office investigation into a theft of truck fenders from Yarber Wash Road on Dec. 10 has led to the arrest of a Prescott Valley man on charges of burglary, theft and trafficking stolen property, according to Sheriff's Office spokesman Dwight D'Eveyln.
From the investigation of stolen side fenders from a 1950s truck that were then posted for sale on Facebook, deputies arrested and charged Joshua Vidrine, 38, with the crime. Deputies were initially alerted to the theft after the victim spotted the social media advertisement and determined they appeared to the the same as ones he owned. Upon checking, the victim determined the fenders were missing from his property, the news release said.
Deputies reviewed the advertisement, and determined that Vidrine had been hired by the victim's property management company to do property clean up. At no time, however, was he given permission to enter a fenced and locked area where the fenders were stored.
A search warrant was executed at Vidrine's home in the 7900 block of Spanish Moss Lane on Dec. 12. As part of the search, the deputies found the fenders and some other stolen items that belonged to the victim, the release said. Vidrine was interviewed and the news release said he admitted to stealing the property.
He was arrested and remains in custody in the Camp Verde Detention Center on a $1,000 bond.
More like this story
SUBMIT FEEDBACK
Click Below to: