Annual Shop With a Cop event delivers holiday spirit

By
Nanci Hutson
|
HutsonNanci
Originally Published: December 17, 2017 6:02 a.m.
Video sound may be muted. Click bottom, right speaker icon to unmute.
Photo Gallery
Shop With A Cop 2017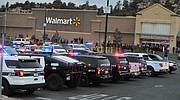 Balancing a "Soggy Doggy" game in one hand and doll accessories in another, Prescott Police Chief Debora Black dodged shopping carts and darting children Saturday on a Christmas shopping spree up and down the aisles of the Walmart on Gail Gardner Way.
It was all part of the annual, interagency 20th annual Shop with a Cop program coordinated through her department.
Like 114 other law enforcement officers from 12 different agencies, the chief was helping her assigned partner, Kirra, select $250 worth of gifts for both her and her family. With equal doses of humor and patience, Black offered some sage advice as the girl selected an assortment of toys on her list.
A "My Life" doll bed turned out to be her personal favorite.
Smiling at Kirra's unbridled delight with her find, Black shared a sentiment common to the other officers.
"It's about the best part of the entire holiday season," she declared.
At about 7:45 a.m., the Walmart parking lot erupted into a cacophony of sirens, as well as revolving red-and-blue lights. A caravan of more than 100 police vehicles traveled from Prescott Valley to this store for what was to be a two-and-a-half hour shopping excursion for children, most coming from single-parent households or low-income families. The program is offered to boys and girls ages 7 to 12 who are referred from area social service agencies or schools.
Soon after they parked, a Native Air helicopter deposited Santa Claus in the middle of the hubbub. The Jolly Old Elf posed for pictures throughout the two-and-a-half hour shopping excursion.
The Shop With a Cop program in Prescott started two decades ago with 39 children, all referred by area charities and schools.
Through generous community donations — individuals, churches, civic groups, clubs and organizations and many businesses — the Prescott Police Department manages each year to organize a day of holiday cheer and gift selection for these children and their families. Since the inaugural event, the program has collected some $327,000 and served about 1,500 children.
"It's a lot of work, but hugely rewarding," said Prescott Police Lead Officer Dave Fuller. "It's just an unbelievable experience to see the excitement on these kids' faces."
For Prescott Valley Lt. Jon Brambila, a father of two, this program has been a focal point of his holiday season for 18 years.
His partner for the day, 7-year-old Charlie from Prescott Valley, wasn't quite sure what he liked most: the ride in a patrol car, a visit with Santa or the shopping for Christmas presents. He certainly was all smiles as he waited for his chat with Santa before tracking down "Transformers" and Nerf guns.
Brambila, though, suspects the children's obvious exuberance is about equal to that of his multi-agency colleagues.
"We have as much, or more, fun than the kids do," said Brambila, who still collects hugs from his very first partner, a little girl who is now a 28-year-old mother. "It gets us all in the holiday spirit."
Prescott Valley Lt. Scott Stebbins wielded a cart loaded with such things as a Thomas the Tank Engine train set and a leopard-print blanket-and pillow set. His partner, Brian, 9, made the choices, and then hunted down a Disney Pixar "Cars" set for his younger brother. Like many of the children, Brian was willing to select his own present, but first he wanted to be sure he found gifts for his family.
"It warms the heart to know we have a bunch of officers who just want to give Christmas away, and show off the real meaning of Christmas," said Stebbins, a 20-year volunteer.
Prescott High School freshman cheerleader Emma Clark, a team member who helped with the shopping and gift wrapping, said it was a privilege to participate. Such an event makes people "so much more grateful" for all they do have.
One of the Yavapai County Sheriff Office's newest deputies, Chelsea Johnson, said this is just the type of community event she cherishes.
"I knew I wanted to help kids who otherwise wouldn't have a Christmas," said Johnson, who helped 8-year-old Jayden from Prescott Valley stretch his dollars to cover all those on his gift list. "To be able to make this kind of difference in the life of a child … it's priceless."
More like this story
SUBMIT FEEDBACK
Click Below to: