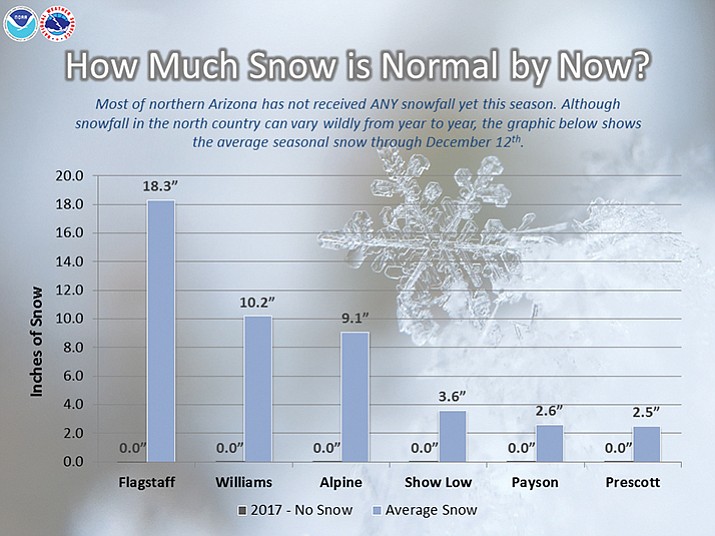 Originally Published: December 15, 2017 6 a.m.
People who love winter and all that it brings are perhaps a little disappointed so far this year.
Temperatures have remained unseasonably warm in Northern Arizona despite a few brief cold snaps and there hasn't been as much as an inch of precipitation.
On a normal year, Prescott would have received 2-and-a-half inches of snow by now, Williams would have seen more than 10 inches, and Flagstaff would be looking at about a foot-and-a-half, according to the National Weather Service (NWS).
Instead, none have seen as much as a flake.
"Right now we still have this high pressure system over the western United States and centered over the west coast and it's putting us in this dry northerly flow," said Darren McCollum, a lead meteorologist with the NWS office in Bellemont, near Flagstaff.
Precipitation in general over the last few months has been seriously lacking. In fact, this is on record as the driest fall Prescott has ever had.
Between Sept. 22 and Dec. 12, there hasn't even been a measurable amount of precipitation at the Prescott Wastewater Treatment Plant, 1500 Sundog Ranch Road, where precipitation is gauged for the area. (Keep in mind, this doesn't mean other parts of Prescott didn't see at least a little more rain.)
The next lowest precipitation level in that timeframe was back in 1917 with .04 inches.
McCollum and his colleagues have been studying a number of models forecasting the possible weather outcomes for the next 10 or 15 days, but there is very little indication that precipitation is on the way.
"I'd put our confidence level at about 10 percent right now," he said.
In other words, don't count on a white Christmas like last year. The first snow of 2016 was on Christmas Day, Dec. 25, with 7-and-a-half inches, which was the fifth highest total ever for a first snowfall at the wastewater treatment plant. The highest first snowfall at that location is 19 inches on Nov. 29, 1933.
However, an abnormally dry fall doesn't necessarily mean it will be an abnormally dry winter, McCollum said.
"There's been 10 or 15 other times where it's been somewhat this dry heading into December, but not all of those years ended up being super dry," McCollum said. "It could switch modes very easily."
But there have been years when snow almost never came.
For instance, the latest first snow for the wastewater treatment plant was March 4, 1961, with just 1 inch.
Business' waiting
Snow or no snow, businesses are already stocked up for the season and are just waiting for something to happen.
"We're anticipating snow and we will get it eventually," said Ryan Hurges, a manager at Prescott True Value Hardware.
Starting right around this time of year, stores like True Value, Walmart, Target and Home Depot usually start selling snow shovels, ice melt, RV antifreeze, plumbing insulation and the like, so they have all of that currently sitting on their shelves and taking up space in the store.
"This year is a little different, so we're selling a lot of stuff that we typically wouldn't sell, like plant fertilizers and a lot more of the hand garden tools," Hurges said.
It only takes one good snowing, however, to change consumer buying habits.
When snow did finally hit on Christmas Day last year, just about every store in Prescott that carried winter recreation products such as sleds and toboggans was cleaned out in a matter of hours, according to a Courier report.
True Value was one of those stores.
"We obviously look at what happened last year and try to make the best guess for this year, but it doesn't always happen that way, so some of the stuff that we're actually heavy on, we might sit on until we get some weather," Hurges said.