Now Showing: Week of Dec. 15
Originally Published: December 14, 2017 7:05 p.m.
Movies playing at Harkins Theatres, 7202 Pav Way, Prescott Valley (Highway 69 between Glassford Hill and Lake Valley roads). 928-775-7444; www.harkins.com.
(NEW) STAR WARS: THE LAST JEDI – Rey (Daisy Ridley) develops her newly discovered abilities with the guidance of Luke Skywalker (Mark Hamill), who is unsettled by the strength of her powers. Meanwhile, the Resistance prepares to do battle with the First Order. Also stars Carrie Fisher, John Boyega, and Adam Driver. Rated PG-13 – Fantasy, Science fiction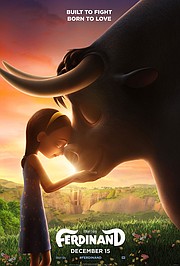 (NEW) FERDINAND – Ferdinand is a young bull who escapes from a training camp in rural Spain after his father never returns from a showdown with a matador. Adopted by a girl who lives on a farm, Ferdinand's peaceful existence comes crashing down when the authorities return him to his former captors. With help from a wisecracking goat and three hedgehogs, the giant but gentle bovine must find a way to break free before he squares off against El Primero, the famous bullfighter who never loses. Stars voices of John Cena, Kate McKinnon, Daveed Diggs, Miguel Angel Silvestre, and Gina Rodriguez. Rated PG – Fantasy, Adventure
(NEW) THE STAR – In Sony Pictures Animation's The Star, a small but brave donkey named Bo yearns for a life beyond his daily grind at the village mill. One day he finds the courage to break free, and finally goes on the adventure of his dreams. On his journey, he teams up with Ruth, a loveable sheep who has lost her flock and Dave, a dove with lofty aspirations. Along with three wisecracking camels and some eccentric stable animals, Bo and his new friends follow the Star and become accidental heroes in the greatest story ever told – the first Christmas. Stars voices of Steven Yeun, Gina Rodriguez, Oprah Winfey, Zachary Levi, and Tyler Perry. Rated PG – Adventure, Comedy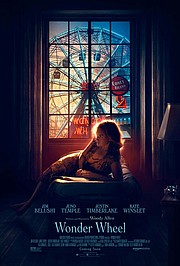 (NEW) WONDER WHEEL – Four peoples' lives intertwine amid the hustle and bustle of the Coney Island amusement park in the 1950s: Ginny, an emotionally volatile former actress now working as a waitress in a clam house; Humpty, Ginny's rough-hewn carousel operator husband; Mickey, a handsome young lifeguard who dreams of becoming a playwright; and Carolina, Humpty's long-estranged daughter, who is now hiding out from gangsters at her father's apartment. Stars Kate Winslet, Justin Timberlake, Juno Temple, Jim Belushi, and Jack Gore. Rated PG-13 – Drama
Also showing:
COCO – Despite his family's generations-old ban on music, young Miguel dreams of becoming an accomplished musician like his idol Ernesto de la Cruz. Desperate to prove his talent, Miguel finds himself in the stunning and colorful Land of the Dead. After meeting a charming trickster named Hector (Gael Garcia Barnal), the two new friends embark on an extraordinary journey to unlock the real story behind Miguel's family history. Animated. Rated PG – Fantasy, Mystery
JUSTICE LEAGUE – Fueled by his restored faith in humanity and inspired by Superman's selfless act, Bruce Wayne enlists the help of his newfound ally, Diana Prince, to face an even greater enemy. Together, Batman and Wonder Woman work quickly to find and recruit a team of metahumans to stand against this newly awakened threat. But despite the formation of this unprecedented league of heroes--Batman, Wonder Woman, Aquaman, Cyborg and The Flash -- it may already be too late to save the planet from an assault of catastrophic proportions. Rated PG-13 - Action & Adventure, Drama, Science Fiction & Fantasy
WONDER – Based on the New York Times bestseller, "Wonder" tells the inspiring and heartwarming story of August Pullman. Born with facial differences that, up until now, have prevented him from going to a mainstream school, Auggie becomes the most unlikely of heroes when he enters the local fifth grade. As his family, his new classmates, and the larger community all struggle to find their compassion and acceptance, Auggie's extraordinary journey will unite them all and prove you can't blend in when you were born to stand out. Rated PG - Drama
THOR: RAGNAROK – In Marvel Studios' "Thor: Ragnarok," Thor is imprisoned on the other side of the universe without his mighty hammer and finds himself in a race against time to get back to Asgard to stop Ragnarok--the destruction of his homeworld and the end of Asgardian civilization -- at the hands of an all-powerful new threat, the ruthless Hela. But first he must survive a deadly gladiatorial contest that pits him against his former ally and fellow Avenger -- the Incredible Hulk! Rated PG-13 - Action & Adventure, Drama, Science Fiction & Fantasy
JUST GETTING STARTED – Duke Diver (Morgan Freeman) is living the high life as the freewheeling manager of a luxurious resort in Palm Springs, Calif. He soon faces competition from Leo (Tommy Lee Jones), a former military man who likes the same woman that Duke is interested in. When Diver's past suddenly catches up with him, he must put aside his differences and reluctantly team up with Leo to stop whoever is trying to kill him. Rated PG-13 – Action/Adventure
MURDER ON THE ORIENT EXPRESS – What starts out as a lavish train ride through Europe quickly unfolds into one of the most stylish, suspenseful and thrilling mysteries ever told. From the novel by best-selling author Agatha Christie, "Murder on the Orient Express" tells the tale of 13 strangers stranded on a train, where everyone's a suspect. One man must race against time to solve the puzzle before the murderer strikes again. Kenneth Branagh directs and leads an all-star cast including Penélope Cruz, Willem Dafoe, Judi Dench, Johnny Depp, Michelle Pfeiffer, Daisy Ridley and Josh Gad. Rated PG-13 - Drama, Mystery & Suspense
THREE BILLBOARDS OUTSIDE EBBING, MISSOURI – After months have passed without a culprit in her daughter's murder case, Mildred Hayes (Frances McDormand) makes a bold move, painting three signs leading into her town with a controversial message directed at William Willoughby (Woody Harrelson), the town's revered chief of police. When his second-in-command, Officer Dixon (Sam Rockwell) – an immature mother's boy with a penchant for violence – gets involved, the battle is only exacerbated. Rated R – Crime film, Drama
THE MAN WHO INVENTED CHRISTMAS – Using real-life inspiration and a vivid imagination, author Charles Dickens brings Ebenezer Scrooge, Tiny Tim and other classic characters to life in "A Christmas Carol," forever changing the holiday season into the celebration known today. Stars Dan Stevens, Christopher Plummer, Jonathan Price, Morfydd Clark and Miriam Margolyes. Rated PG – Drama, Biography
More like this story
SUBMIT FEEDBACK
Click Below to:
This Week's Circulars
To view money-saving ads...